SAM PURPOSE FEATURES FELLOW RENEW YOUR MIND MUSIC ARTIST VESSEL PIECE ON NEW RECORD "NO DEFICIT"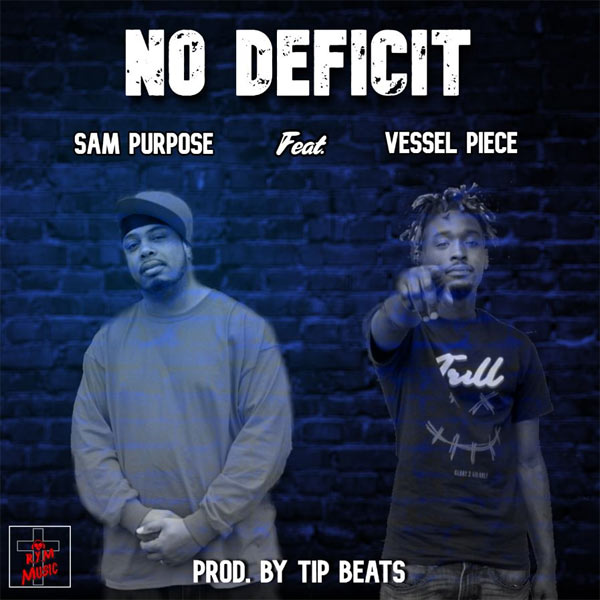 NEWS SOURCE: FiveTwenty Collective
June 4, 2021
Greensboro, NC - Renew Your Mind Music CEO Sam Purpose, formerly Sam P., returns with the 2021 single "No Deficit". While 2020 was a new experience and 2021 has been surrounded by uncertainty, Sam is here to remind listeners that authority remains with Jesus Christ!
As he encourages believers that our lives are not set up for failure, Sam holds tight to the truth that God has the best intentions for each of us. As he points out, "No matter what comes our way - pandemics, injustice, financial hardship - in the end, when we choose to trust, God is still in control. We walk in victory in the midst of negative situations."
As 2 Cor. 4:8-12 tells us, "We are pressed on every side by troubles, but we are not crushed. We are perplexed, but not driven to despair. We are hunted down, but never abandoned by God. We get knocked down, but we are not destroyed…"
"No Deficit" hits digital music retailers on June 4, 2021 and features production from Tip Beats. The song also includes additional vocals from Renew Your Mind Music artist Vessel Piece.
To support Sam Purpose: Twitter | Facebook | Instagram | YouTube
Song Details
Title: No Deficit
Artist: Sam Purpose
Label: Renew Your Mind Music
Release Date: June 4, 2021
Production: Tip Beats
Feature: Vessel Piece
Engineering: Tip Beats
Listen on Spotify: https://open.spotify.com/album/1lIqJD5bItJ5Si7zSTsZsH?si=yuer5lcVRZi_NE7V72frpw
About Sam Purpose
Samuel Arthur Pierce, aka Sam Purpose (formerly known as Sam P.), is a Christian Hip Hop (CHH) artist from Middlesex, NC. Sam Purpose is known for mixing sonically modern, lyrical mumble rap with classic East coast hip hop nostalgia. Inspired by CHH heavyweights such as Trip Lee, Social Club Misfits, DA T.R.U.T.H., KB, and Andy Mineo as well as legendary mainstream artists like Nas, The Notorious B.I.G., and Wu Tang Clan, Sam has taken these influences and found HIS sound. Making music since 2015, Sam has founded his own independent label and production company, Renew Your Mind Music, that is based in Greensboro, NC.
Born in Raleigh, NC, Sam was the only brother to three sisters who lost their father in a tragic car accident when he was only eight years old. Six months later, the family home was destroyed by a fire. Around that same time, Sam was diagnosed with epilepsy, a condition he has had to navigate since. Embracing the hip hop culture, he began getting in fights at school, resulting in constant suspensions. As the grieving from his father's death was kept hidden, he began writing songs at the age of 10. In 2005, Sam began pursuing a relationship with God thanks to the examples of his mother and late father. Ten years later, listening to fellow Christian artists like Bizzle, SO, Jered Sanders, and Lecrae, he made a commitment to use his talent for music to inspire, bring hope, and spread the truth of the one who had given him his gift.
Now a husband and father himself, Sam Purpose has not only created music that has drawn him his own attention, but he represents Christ to both his listeners and family alike. Sam's single Deny has gained more than 10,000 streams on digital streaming platform Spotify, helping to earn a Gospel Image Award nomination in 2019.
###