EL VOW IS "ON JUAN" IN NEW SINGLE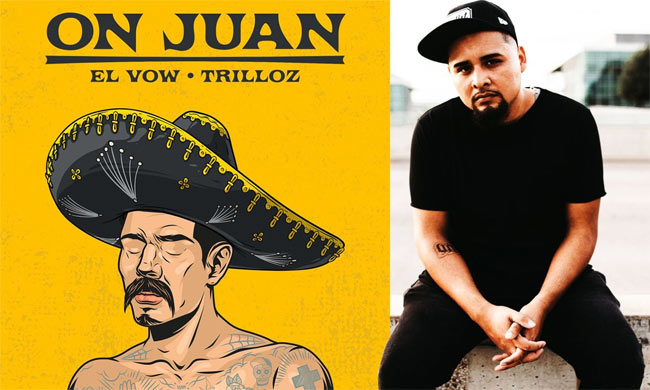 NEWS SOURCE: FiveTwenty Collective
July 13, 2021
Fort Worth, TX - In 2020, El Vow taught listeners how to Dream In Color with his debut project. He introduced the Christian Hip Hop community to a sound he labeled Vato Hip Hop. With an extensive background working alongside several of the genre's top artists, El Vow has taken his own artistry to new heights as a solo act.
As the world begins to re-open and music starts to feel normal again, El Vow delivers not only a new record but one that has a message that is personal for the young Hispanic Texan. "On Juan" is not simply a banger, the song is packed with substance as well.
"Me and Loz were both brought up in immigrant homes," explains El Vow. "We share a glimpse of what growing up in the States is like from our lens."
The K-Drama produced record is high-energy infused with an ear-catching melody. El Vow and TrilLoz demonstrate their individual lyrical gifts, moving effortlessly between English and Spanish bars. It's not often that you get a summertime anthem that includes the depth that is found on "On Juan" and that adds to what is already a special track.
"On Juan" releases across digital retailers on July 13, 2021.
Support El Vow: Instagram | Twitter | Facebook | YouTube
Record Details
Title: On Juan
Artist: El Vow
Release Date: July 13, 2021
Production: K-Drama
Feature: TrilLoz
About El Vow
To date, El Vow has been featured in several national tours along Reach Records artist Tedashii and is known as a floating DJ to many of today's top artists such as Social Club Misfits, Derek Minor, KB, and Grammy award winning artist Lecrae. The resume doesn't stop there. In fact, El Vow travels extensively as a solo artist, stretching performances as far as Mexico City and New England. It's the solo performances that have driven El Vow to continue to raise the bar and utilize other gifts that have been otherwise hidden from the public. These talents include public speaking, videography, humor, photography and many others. These hidden talents have now placed El Vow on radio rotations in several major cities across the country, a move that has positioned him outside of the box. Vow's musical influences include Hip Hop, EDM, and deep latin roots, which he claims to slow cook and season with faith and humor. It is no wonder El Vow continues to leave audiences hungry for more.
###