iNTELLECT RECONNECTS WITH MR. UNI UNIVERSAL WITH NEW SINGLE "MANIFEST"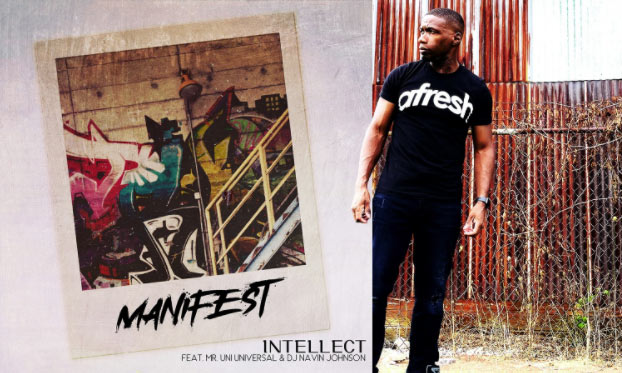 NEWS SOURCE: FiveTwenty Collective
July 22, 2021
Toledo, OH - For Christian hip hop artist iNTELLECT, 2021 has seen no shortage of new music. Following an EP (The Art of Grace) along with two successful singles (The Intersection, New Kung Fu), the Ohio emcee continues putting in work with his latest record Manifest.
With vinyl scratches over a funky electric guitar, iNTELLECT shines light on the things in life that we try to keep hidden. iNTELLECT's refined boom bap approach blends beautifully with Mr. Uni Universal's delivery as the two spit on top of head-nodding production courtesy of Newselph. DJ Navin Johnson chips in with perfectly placed cuts. The sound is clearly meant to remind listeners that classics never go out of style.
"The track has a vintage feel, but still sounds fresh and new" explains iNTELLECT. "Manifest is an energetic track where [we] lay down deep, thought provoking lyrics."
Manifest hits digital retailers on July 23, 2021.
Purchase and Stream Manifest wherever you listen to music: https://linktr.ee/intellect_419
Support iNTELLECT: Instagram | Facebook | Website
Record Details
Title: Manifest
Release Date: July 23, 2021
Artist: iNTELLECT
Production: Newselph
Engineering: iNTELLECT
Features: Mr. Uni Universal, DJ Navin Johnson
About iNTELLECT
With a distinct flow, iNTELLECT has used his gift to spread the message of salvation through faith in Jesus Christ to areas throughout the Midwest.
Drawing his inspiration from the Gospel and life experience, iNTELLECT combines biblically sound doctrine with hip hop beats. "Being that I grew up in a home with a Christian mother and an alcoholic father, my mother has been one of the most influential persons in my life. I watched how she constantly prayed for my father (who eventually came to salvation before his death) and I became a firsthand witness on how faith and prayer can change the direst of situations. I watched how she studied the Word of God and how she passionately lived the Christian life while I was growing up. Even though at times I had strayed away from the path, she always told me that God had a plan for my life. Her influence has helped me see the importance of not only living a life of integrity but also to present myself to God as one approved, a worker who does not need to be ashamed and who correctly handles the word of truth (2 Tim. 2:15)."
###