Oba Reengy Releases New Remix Single "Don't Leave" Featuring Royce Lovett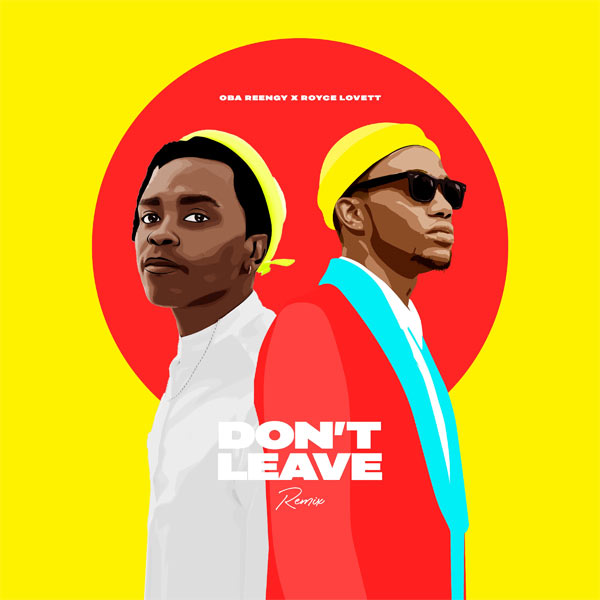 NEWS SOURCE: DREAM Records
September 17, 2021
Los Angeles, CA (September, 2021) — Today, -- Oba Reengy releases the remix version of his single "Don't Leave" featuring hip hop artist Royce Lovett (Paravel / DREAM) available at all digital retail outlets. The Afrobeat track was co-written by Oba Reengy, TBabz and Royce Lovett and was produced by TBabz. Oba shares more of what the track means to him.

"Don't Leave" is about me needing God in everything that I do and going through. It is so easy to forget God when things are going great, so I wrote Don't Leave to remind not just myself, but also fellow Christians that in our ups and downs whether it be in the music industry (as in my case), or just in our spiritual journey, always remember that we need God by our side always.

Listen or buy "Don't Leave" (Remix) (feat. Royce Lovett)" here.
Connect with Oba Reengy:
Facebook | YouTube | Instagram
ABOUT OBA REENGY:
Jesusomidotun Peters better known as Oba Reengy is a Christian Afrobeat artist from Lagos Nigeria whose main goal is to create music that reflects Christ to this generation and beyond.
ABOUT PARAVEL RECORDS:
Paravel Records was created to amplify and support the artist's unique vision and true creative voice. We strive to serve each project driven by each artist's needs and audience they serve. Through multi-faceted promotional and marketing efforts, our goal is to engage the audience, inspire the listener and influence the overall culture through compelling, thought-provoking content.
ABOUT DREAM RECORDS:
DREAM provides artists with a genuine approach to how real artist development should be done. By allowing for a partnership as a business model, DREAM artists empower themselves to develop and carry out a real vision for their lives as they affect other people's lives with their music and message. Incorporating social media, press, radio and touring, DREAM is helping its artists grow together as a family. DREAM was founded in 2008 and has grown to 17 different divisions comprised of multiple labels, merchandise, apparel, mobile, publishing and film.
###