We Are Messengers' Darren Mulligan Walks Away From Auto Accident Last Week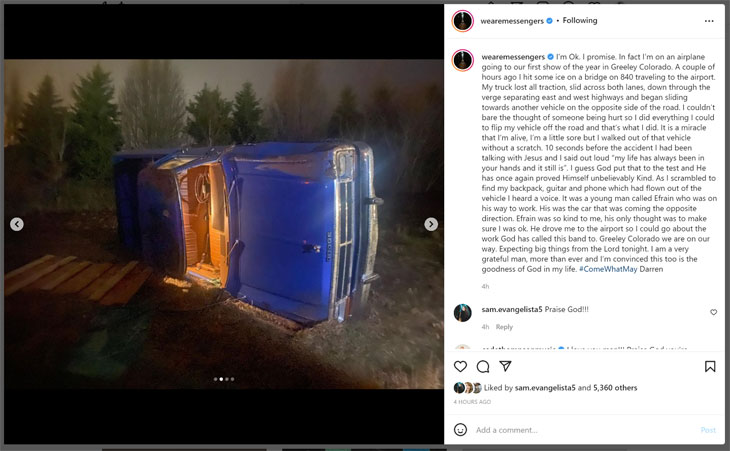 NEWS SOURCE: Curb / Word
February 7, 2022
We Are Messengers front man Darren Mulligan was involved in a car accident the morning of 2/4 as he was driving to the airport in Nashville, TN. Hitting ice on a bridge, he lost traction, slid across two lanes and into the lane of an oncoming vehicle, and veered off the road, flipping and totaling his truck. Thankfully, Darren made it through the accident without a scratch, and with the help of the driver of the oncoming vehicle, made it to the airport and on his way to the group's first show of the year in Greeley, CO. Listen to Darren discuss his experience in the player below, and see his social media post about the accident here, too.
Darren wrote on instagram:
"I'm Ok. I promise. In fact I'm on an airplane going to our first show of the year in Greeley Colorado. A couple of hours ago I hit some ice on a bridge on 840 traveling to the airport. My truck lost all traction, slid across both lanes, down through the verge separating east and west highways and began sliding towards another vehicle on the opposite side of the road. I couldn't bare the thought of someone being hurt so I did everything I could to flip my vehicle off the road and that's what I did. It is a miracle that I'm alive, I'm a little sore but I walked out of that vehicle without a scratch. 10 seconds before the accident I had been talking with Jesus and I said out loud "my life has always been in your hands and it still is". I guess God put that to the test and He has once again proved Himself unbelievably Kind. As I scrambled to find my backpack, guitar and phone which had flown out of the vehicle I heard a voice. It was a young man called Efrain who was on his way to work. His was the car that was coming the opposite direction. Efrain was so kind to me, his only thought was to make sure I was ok. He drove me to the airport so I could go about the work God has called this band to. Greeley Colorado we are on our way. Expecting big things from the Lord tonight. I am a very grateful man, more than ever and I'm convinced this too is the goodness of God in my life. #ComeWhatMay Darren"
JFH Album Sample Player
###
For more info on We Are Messengers, visit the JFH Artists Database.