Curb | Word Entertainment's Stars Go Dim Announces Third Studio LP, Grace In The Wilderness, Arriving April 29, 2022
Pre-Order/Pre-Save Album
HERE
New Song, "This Is Love," Debuts Today (2/11)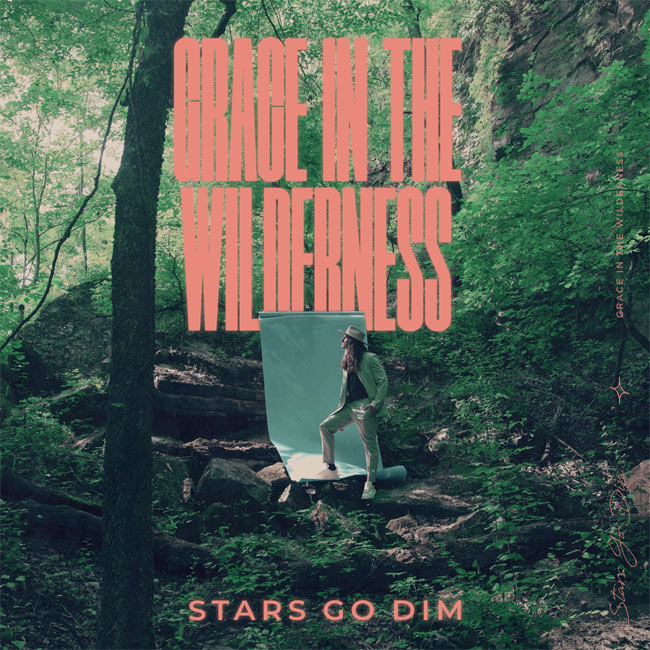 NEWS SOURCE: Curb | Word Entertainment
February 11, 2022
Nashville, Tenn. (February 11, 2022) — Curb | Word Entertainment's Stars Go Dim is set to release Grace In The Wilderness April 29, 2022. Beginning today (2/11), fans can pre-order/pre-save the upcoming album HERE. In addition, instant grat track "This Is Love" drops today, giving listeners another taste of what's to come, following lead single, "Yes He Does." Watch the poignant video for "This Is Love," which includes an unexpected ending, HERE.
Stars Go Dim's third studio project, Grace In The Wilderness, leads listeners on a pilgrimage toward hope that expands on the infectious pop sound that's defined Chris Cleveland's catalog since the impassioned singer debuted his first self-titled album under the Stars Go Dim moniker. Coupling meaningful lyrics with a voice that knows no bounds, Cleveland pulls out all the stops on the intrepid collection as his immaculate voice effortlessly glides across 13 tracks — all co-written by the ace songwriter. Produced by Jeff Sojka, Jeff Pardo and Anton Göransson, the new LP features the explosive "This Is Love," the worshipful "Prepare The Way" and the affirming "Yes He Does."
Opening the record, the multi-layered, sonically complex "This Is Love" captures Cleveland in a transformative moment in time as he receives divine CPR from a Love that gives him no choice but to surrender. Unraveling his insecurities and doubts, Cleveland wrote the dark, theatrical cut with Issa Sjöstrand and Anton Göransson. Set against a visceral wall of tightly-produced pop, Cleveland showcases the versatility of his wide-ranging vocals and his ability to thrive in any musical sphere.
This month, the award-winning artist is headlining select dates on "The Yes He Does Tour" with special guest Renee. Later this year, he'll bring an intimate, stripped-down version of his engaging live show to fans in private backyards across the country.
Pre-Order/Pre-Save Grace In The Wilderness HERE. For tour dates and more information, visit www.StarsGoDim.com.
Grace In The Wilderness Official Tracklisting:
"This Is Love"
"Already Loved"
"What Your Love Can Do"
"Live Like That"
"Give Yourself Away"
"Satisfied"
"Thank God"
"Wasted"
"When We All Get To Heaven"
"Prepare The Way"
"Authority"
"Yes He Does"
"Grace In The Wilderness"
About Stars Go Dim:
Formed in 2007 as a mainstream pop band, today Stars Go Dim is the moniker for Christian pop artist and songwriter Chris Cleveland. After years at the helm of an acclaimed independent secular band and more than a decade leading worship at Tulsa's Asbury United Methodist Church — one of America's largest congregations — Cleveland found success in the Christian format with his self-titled debut album. The singer has garnered multiple International #1s and Top 5 hits at pop and Christian radio, including the massive No. 1 radio smash in the U.S. with "You Are Loved." Chris and his songs have been honored with multiple nominations and awards from CMT, NSAI (Nashville Songwriters Association International), ASCAP, Billboard and the Gospel Music Association. His songs have hundreds of millions of streams and have been placed in commercials and ads hundreds of times. In addition, Chris has toured the world, written, and played with many of the biggest artists in pop and Christian music in the last 15 years, including: Justin Bieber, John Mayer, The Goo Goo Dolls, Elton John, Billy Joel, Jason DeRulo, The Fray, Natasha Bedingfield, The Roots, Lauren Daigle, FOR KING + COUNTRY, Bethel Music, Mav City and countless more. Poised to release his newest project, Grace In The Wilderness, April 29, 2022, Chris also continues to write songs recorded by many of today's biggest artists and worship groups. You can see Chris on tour supporting his music, and keep up with him online at www.StarsGoDim.com or on Instagram or Facebook @starsgodim.
About Curb | Word Entertainment:
In 2016, Curb Records acquired Word Entertainment, combining two of the music industry's most respected global brands, and more than a century of collective experience. Today, Curb and Word are two of the world's leading independent music companies. Owned and operated by Mike Curb, the Curb | Word family includes the labels Curb, Word, Squint, Fervent, Sidewalk, MCC and IVAV, as well as Curb Publishing, Word Publishing, 25 Live, Curb Films, Word Films, Word Entertainment, and Curb Sports, representing top artists and entertainers in Country, Christian, Pop, Rock, and Hip-Hop. For more information, visit www.curb.com.
###
For more info on Stars Go Dim, visit the JFH Artists Database.