KAREN PECK & NEW RIVER RELEASE FULL-LENGTH ALBUM 2:22 OUT EVERYWHERE NOW
HIGHLY-ACCLAIMED MULTI-AWARD-WINNING GROUP KAREN PECK & NEW RIVER RELEASE BRAND-NEW STUDIO ALBUM DECLARING THE "ANSWER IS JESUS"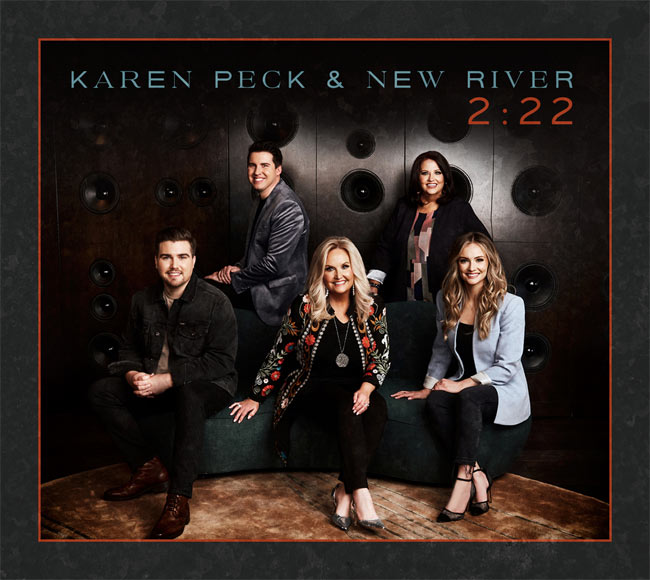 NEWS SOURCE: Wortman Works
February 22, 2022
NASHVILLE, Tenn. (February 22, 2022) - Daywind Record's Karen Peck & New River continue to make a name for themselves in Gospel Music with their brand-new full-length studio album 2:22 out everywhere now. The five-time GRAMMY®-nominated, seven-time GMA Dove Award-winning group powerfully declares that the "Answer Is Jesus" through all of life's joys and sorrows in this ground-breaking album. Inspired by the hope found in Jesus through life's darkest tragedies, 2:22 sends a strong message of redemption and peace. The members of KPNR as well as their loved ones experienced trials and tribulations prior to and during the making of 2:22. With some of these challenges including cancer, covid, miscarriage, and addiction, 2:22 is a raw and honest collection of songs that will resonate with all listeners. Click here to listen to 2:22 out everywhere now.
Karen Peck commented on the release of 2:22 saying, "Today's date 2/22/22 only happens once every century, and there is no time like the present to rest in knowing that the infinite 'Answer Is Jesus.'"
Track Listing:
1. Spirit of Heaven (3:40)
2. Answer Is Jesus (3:43)
5. Bless His Holy Name (3:53)
6. If God Wrote A Song (3:24)
8. Lead Me Through (3:51)
11. The Lord's Prayer (0:34)
About KPNR
Five-time GRAMMY®-nominated, seven-time GMA Dove Award winning Karen Peck and New River has impacted the Gospel Music industry for almost 30 years. In 2018, Karen Peck Gooch was inducted into the Gospel Music Association Hall of Fame.
Karen Peck & New River was formed in January 1991. Karen teamed with her husband, Rickey Gooch and her sister, Susan Peck Jackson, to form the group. Karen had already made a name for herself, serving as beloved Soprano for the popular Rex Nelon Singers for a decade. During that time she earned her first GMA Dove Award, as well as her first of 11 consecutive Singing News Fan Awards for Favorite Soprano.
Much success has followed the popular vocalist since the formation of Karen Peck & New River. Over the years, the musical team has shared the Gospel through song around the world, traveling throughout the US and Canada, as well as Israel, Central America, and Europe. The group is regularly featured on the popular Gaither Homecoming Video Series, which airs worldwide.
A leader among the Southern Gospel Music industry, Karen has served on the Board of Directors for Abraham Productions, an events' promotions company that promotes multiple Christian music cruises and concert events each year. Additionally, she serves on the Board of Directors of the Southern Gospel Music Association, including two terms as President. She was the first woman to be named President of the SGMA. Additionally, she has served as keynote speaker at multiple women's conferences, and in 2012 was named the recipient of the Susan Unthank Memorial Award, presented by
AbsolutelyGospel.com
, honoring women for major contributions to Southern Gospel Music. Karen also serves as co-host of the weekly television program, Gospel Music USA, which showcases many of the leading names in Southern Gospel Music.
In 2012, Karen was afforded the opportunity to transition from music to movies when she enjoyed a feature role in the hit film, Joyful Noise, appearing with Dolly Parton and Queen Latifah. She was the lead singer on the popular song from the movie soundtrack, "Mighty High." In 2014, she followed up the appearance with a role in Redeemed, starring Ted McGinley, Grant Goodeve and Teri Copley.
Amid the personal success Karen has enjoyed, New River has been equally blessed with countless honors and accolades, including many radio hits, which have soared up the Southern Gospel Music airplay charts. Karen Peck & New River has enjoyed over 20 Number One hits, including "Four Days Late", which was named Song of the Decade for 2000-2010 by The Singing News Magazine. Many of these hit releases were either written or co-written by Karen, including "I Know I'll Be There," "The River," "Revival," "Pray Now," "Gotta Be Saved," "Everybody's Going Through Something," "On The Banks Of The Promised Land," "Daddy's Home," "I Am Blessed," "I Wanna Know How It Feels," "Calling," "Finish Well," as well as "Hope For All Nations," which the group performed in Roatan, Honduras in the summer of 2017.
Over the years Karen Peck & New River has become a family affair, as Karen and Rickey's daughter, Kari, as well as their son, Matthew are full-time group members. Matthew's wife, Preslee, is serving as the product manager. In addition to Karen's sister, Susan, Grant Gibson completes the talented vocal group.
Karen Peck & New River has evolved throughout the past three decades and has firmly established a place at the forefront of Southern Gospel Music. However, the Gospel Music Hall of Fame member refuses to rest on past laurels. New River continues to deliver a progressive sound that is distinctive yet remains true to the traditional styling that has made them a fan favorite. They have been faithfully striving for excellence to make KPNR relevant in today's society. In 2022, the group is expected to release a full-length album entitled "2:22" inspired by recent hardships brought on by political unrest and the pandemic. The album sends a message of hope that Jesus is the answer with the leading single entitled "Answer Is Jesus." Collectively, they are more committed than ever to continue to share the message of the Gospel of Jesus Christ.
###