Rock Artist NESDAM Releases Powerful New Single "One Block Away"
Track Marks Third Single Released by Former Random Hero Member and Is Available Now on Digital Outlets Everywhere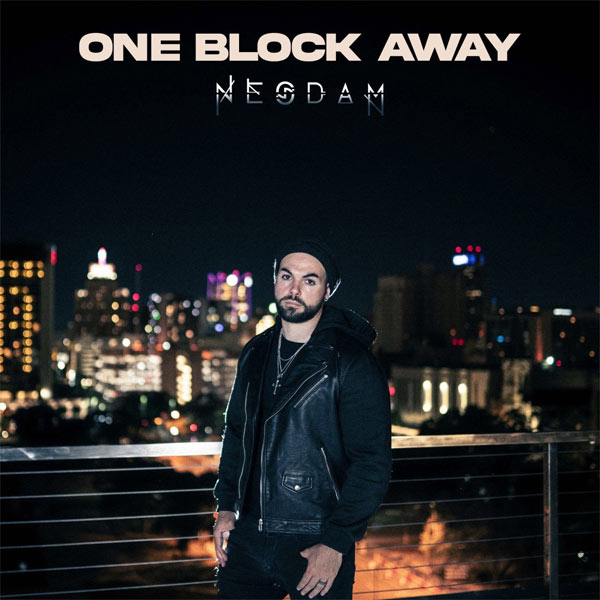 NEWS SOURCE: Today's Christian Entertainment PR
February 25, 2022
Houston, TX (February 26, 2022) – Everyone of us has or will lose someone who means the world to us in life. It is sadly the reality in which we will all face sooner or later. Whether it is family, a friend, colleague or in the case of up-and-coming rock artist Patrick Madsen aka NESDAM, a personally revered friend and mentor. NESDAM's third and newest track "One Block Away" describes the experience and is perhaps one of his most personal and powerful songs to date. "This song is about the passing of a loved one, in this specific case I wrote it about and old singer of mine who was a mentor to me early in my career, I lived one block away from him, we were previously in a band together that became very successful until we self-imploded" Madsen explains. "While I was on my second tour with Random Hero, coincidentally the same tour I met my wife Suzy (Zahna) on for the first time, I got the call that he had died. I was over a thousand miles away and couldn't do anything but cry. When I returned home from that tour, he was gone, never to be seen again. I never got to speak about how I felt to anyone that would understand and so I wrote "One Block Away" as the 'flamed arrow' shot into the air as closure for me"
Madsen opened up recently to friend and fellow industry colleague Jay Heilman, host of the podcast Kingdom Builder about the track. He had shared and explained that he had high hopes for it and praying that the song could act as a way to impact people in their own daily walks and lives. "Death is the by-product of our existence, and we must cherish every moment and lesson we learn from those who choose to spend their time teaching us" Madsen says. "My hope is "One Block Away" serves as an anthem of course to those who have lost loved ones and mentors." Be sure to check out the official lyric video for "One Block Away" here.
2022 promises to be another busy year for NESDAM as he plans to release one more single before focusing on writing, producing and recording a full-length project at some point in time in the near future. In the meantime, he continues to be a rhythmic driving force (drummer and timekeeper) for his wife Zahna's band as she starts her upcoming tour across the country this spring/summer. "I am a huge fan of my wife's music. She constantly inspires and impresses me with her musical talent. I would be lying if I didn't say that she inspires me to work harder and harder everyday to be better." You can purchase the new track here now.
For more information on NESDAM, be sure to follow him on Facebook, Twitter and Instagram.
###