OCP'S BREAKOUT CONTEMPORARY CHRISTIAN ARTIST, THOMAS MUGLIA'S DEBUT ALBUM I HAVE A FATHER, AVAILABLE NOW
CCM HOSTS EXCLUSIVE PREMIERE FOR MUGLIA'S MUSIC VIDEO FOR "LET MY TONGUE BE SILENCED"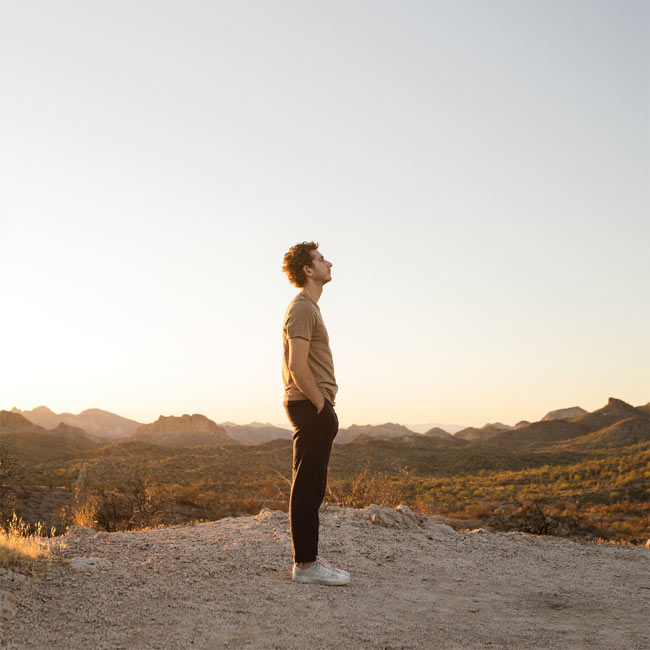 NEWS SOURCE: Sundari PR
February 25, 2022
Feb. 25, 2022 (Los Angeles, CA)-- OCP'snewest artist, Thomas Muglia has released his debut album I Have A Father available now. In honor of the release, CCM Magazine is hosting the exclusive premiere of Muglia's new music video for his current single "Let My Tongue Be Silenced" featured on the new project.
The 11-track album was produced by Paul Moak (Matt Kearney, Third Day, Martha Wainwright, Matthew Mayfield) and recorded in Moak's iconic studio The Smoakstack in Nashville, Tenn. Industry executives have taken note of the American Idol Alumni who has an extensive catalog of over 300 worship songs. I Have A Father takes listeners on the young artist's very personal prayer journey with each song being a monumental moment in his spiritual walk.
"Recording this album was a songwriter's dream," says Muglia. "To come out to Nashville with all these songs and be able to produce them in the way that feels most natural and most authentic. Music is a tool for communication, it's a way that we can share a message that people otherwise might not be willing to hear. We can take all these musical elements together with lyrics to make a succinct and focused message. When we do that with scripture or with our prayers, it becomes this powerful force, and that's why I love to create music."
The 23-year-old Arizona native is celebrating the album launch by hosting two live concerts in Scottsdale at Ravenscroft Concert Hall tomorrow, Feb. 26. With one show already sold out, there are limited tickets available for the second event. All ticket proceeds will be going to The Ear Foundation, a non-profit organization that provides a broad range of services to those who are deaf and hard of hearing.
Born with moderate to severe hearing loss, Muglia grew up in a musical family and quickly learned how to feel, play, and read music at a young age. Under his dad's leadership in the Church, he began playing and singing for the congregation. Through his teen years, Thomas spent his spare time playing renditions of his favorite pop songs in school talent shows or coffee shops. It wasn't long after, in Campus Ministry during college, he discovered a passion for honest songwriting and music that speaks to the heart. In 2019, Muglia recorded his first independent album The Return and not long after that, he was sought after by OCP to publish some of his songs, which quickly expanded with him being signed to the publishing company and the creation of I Have A Father.
I Have A Father showcases Muglia's prayerful and heartfelt songwriting combined with powerful melodies and dynamic instrumental textures. His lyrics strive to reflect honestly on all aspects of a relationship with God and the Christian walk of faith.
"I hope this album brings the message forward to someone, so that they can hear it and relate to it," says Muglia. "In this case, it's to be drawn into a relationship with God."
For more information on Thomas Muglia, please visit https://www.ThomasMuglia.com.
About OCP:
This year, OCP celebrates its 100th anniversary. Founded in 1922 as the Catholic TruthSociety of Oregon, we started by publishing apologetic pamphlets to counter theanti-Catholic misinformation and persecution rampant at the time. Later, we publishedMy Sunday Missal booklets to help people participate more fully in the liturgy, a fullthree decades before the Second Vatican Council. By the later part of the 20th Century,OCP grew from an informative service organization to one of the most trusted publishers of Catholic music and liturgical resources in the world. With 100 years ofexperience, OCP is equipped and ready to respond to the needs of today's pastoralmusicians and worshiping communities.
Connect with Thomas Muglia at:
Facebook: www.facebook.com/thomasmugliamusic
Instagram: www.instagram.com/thomas.muglia
Website: www.thomasmuglia.com
###