THE MOST NAUTICAL ROCK SONG OF ALL TIME: RUSTY SHIPP'S "KING OF THE DEEP"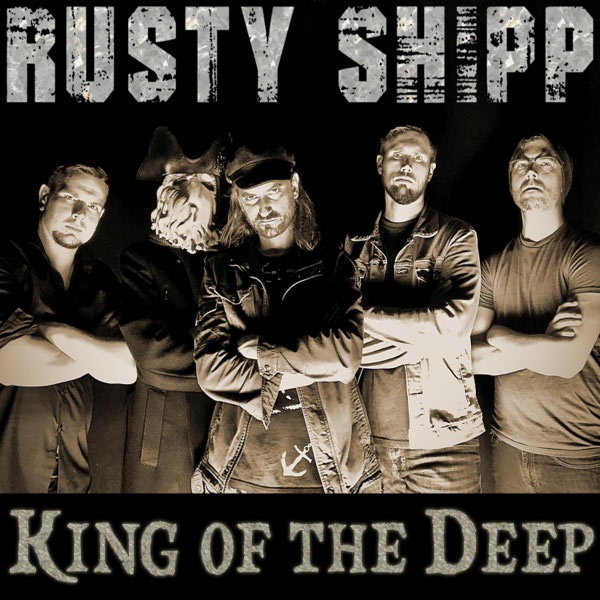 NEWS SOURCE: Rusty Shipp
April 7, 2022
"The most Nautical Rock song ever made" sounds like quite a boast, even coming from a band with such a history of Nautical Rock hits as Rusty Shipp. And yet, with "King of the Deep," the band has clearly set a new gold standard for the Nautical Rock 'n' Roll genre, sounding unlike any other song out there. The third single from their upcoming album "Dark Side of the Ocean," it's the closest thing to an orchestral, rock opera the band has ever made, complete with underwater pianos, bells, violins, organs, and choir voices in an opera-styled conversation sung amongst sailor ghosts, angels, and Poseidon himself, all describing the underwater world Rusty Shipp created in their story-based, concept album.
The singing narration starts with the ghosts of sunken sailors, describing their arrest by underwater angels and marched in chains to the angelic kingdom at the bottom of the ocean. There the Archangel of the Sea (whom humans have referred to as Poseidon or Neptune) presides as the King of the Deep over his underwater kingdom, holding the drowned souls in Limbo until the great Day of Judgment. The angels' description of their kingdom helps paint the picture to bring the listener into this underwater world, and even Poseidon himself chimes in to describe the scene and his role.
For fans of the band's explicitly Nautical Rock 'N' Roll songs of the past, such as "Davy Jones," this single is the Rusty Shipp formula taken to the extreme, to make every die-hard Rusty Shipp fan's dreams come true.
Past Accolades: "Bottom of the Barrel," the first single from the upcoming album, broke through the Top 25 list on Christian Music Weekly's Rock chart making its chart debut at #21, and was also added to RadioU's Top 10 Most Wanted Songs (per listener requests). The music video premiered exclusively for an early release on CCM Magazine and on the CCM Magazine weekly newsletter, and was added to RadioU TV. To promote the single, the band did many interviews for radio and online publications (RadioU, Effect Radio, 102.9FM The Buzz--Nashville's Rock station, and more).
Rusty Shipp is a Nashville-based hard rock band that combines Beatlesque melodies, surf and grunge riffs, and philosophical lyrics to create what they call Nautical Rock 'n' Roll.
RELEASE DATE
April 7th, 2022
CREDITS
Produced & Engineered by Stephen Leiweke at Yackland Studio in Nashville, TN.
Mastered by Alex McCollough with True East Mastering.
FOR FANS OF
Muse
Foo Fighters
Royal Blood
Thrice
WEBLINKS/SOCIALS
###
For more info on Rusty Shipp, visit the JFH Artists Database.