Right Hand Shade Releases Pop Rock Single of Perspective with "Hindsight"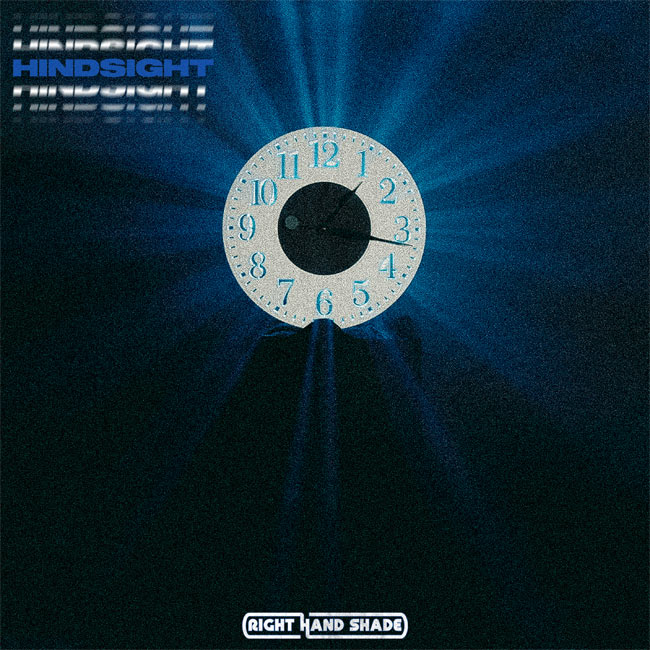 NEWS SOURCE: The Right Hand Shade Team
April 22, 2022
Boston, Massachusetts – April 22nd, 2022 – Up-and-coming pop rock band Right Hand Shade continues to impact the Christian music scene with the release of their studio single and music video Hindsight.
Arising from the band's experience emerging from the challenges of the pandemic and a change in the lineup, songwriters Matt Jones and Taylor Specht penned the song to share about their common experience of gaining understanding, wisdom and perspective of an event after it has happened. The lyrics are a hopeful reminder of gaining this perspective: "Hindsight, if only I knew then what I know now, but He's turning it around and giving foresight, I was blind but now I see Him, working behind the scenes."
The track is a celebratory reminder of the promise found in Romans 8:28: Our Heavenly Father works all things together for our good. Lead singer Matt Jones explains the heart behind the song: "When we've given all we've got, pushed beyond our own strength, and find ourselves in that quiet place, if we're willing to be still and listen, those are the times our Creator loves to show up and meet us. He's been pressing on our hearts that our past mistakes do not have to determine our future steps. Maybe we couldn't see it then, but He was always working behind the scenes, working EVERYTHING out for our good. That's who He is."
Staying true to their surf-rock/pop-rock roots, the band capitalizes on the signature Beach Boys-esque vocal layers they have become known for, built around a hooky electric guitar riff and short vocal line that we're all familiar with: "Hindsight's 20/20." Combining plenty of tight rhythmic patterns and heavy synth bass, smoky and powerhouse vocals, adventurous production, and a contagious grounding acoustic guitar, Hindsight packs a relevant punch, perfect for our times.
Produced by Chris Hoisington (Kevin Max, Paul Baloche), and recorded by Eric Anderson at Old Bear Records in New York, the single is the follow-up to the band's second studio album Rise. Like the album, Nashville's Evan Sieling mixed and mastered the single at The Cottage. The band, which is comprised of Matt Jones (lead vocals, keys), Taylor Specht (lead guitar), Nick Dunfee (rhythm guitar, bass) and Kevin Donovan (drums, bass) knew they had found something special at the studio, setting in motion more collaboration with the team on a series of new singles to be released throughout the upcoming year.
Videographer Dylan Levernoch of Apex Media NY rounded out the creative team by producing and directing the music video for Hindsight. Shot over three days at three different locations in Massachusetts and Rhode Island, the video tells the story of the song through four individual vignettes and creative use of black & white and color sequences of the full band. The video promises to capture the hearts of RHS fans with its fresh visual appeal.
For nearly six years, the New England-based pop rock band has leaned full-throttle into their gifts, performing on stages across the country. Right Hand Shade has managed to build a loyal following and unite Christian music lovers through their music. Hindsight continues to strengthen their position as one of the fastest-growing Christian acts in the Northeast. You can find Hindsight on Spotify and Apple Music, and follow the band on Facebook, Instagram and their website.
About Right Hand Shade
Right Hand Shade is an emerging 4-member Christian Pop/rock band from the shores of New England with soulful vocals, catchy guitar riffs and a modern surf-rock flair. RHS began touring in 2016, and since then they have shared the stage with national acts like Tobymac, for King & Country, Switchfoot, Michael W. Smith, Kari Jobe and Phil Joel. The band recently signed with TMA Media Group for management and artist development, a partnership that will further extend their reach. The group recorded their self-titled studio debut album in 2018. The album's single, "It's Time," as well as the follow-up single "Called by Name," both received airplay on radio stations locally and nationally.
Whether lighting up the stage with a high-octane rock tune, inspiring the crowd to clap and stomp along, sharing relatable and authentic life stories, or arresting the listener with lush vocal harmonies in a heartfelt ballad, Right Hand Shade's mission of hope and strength in a dark age is clear.
###