2x-Grammy Winning Tye Tribbett Returns With 8th Studio Album All Things New, Out July 8 via Motown Gospel
All Things Are "New" for Tribbett with his Recent Single

Album Features PJ Morton, Kierra Sheard, Mali Music, Jekalyn Carr, Kim Burrell, Zacardi Cortez + more

Led By #1 Singles "We Gon' Be Alright" and "Anyhow"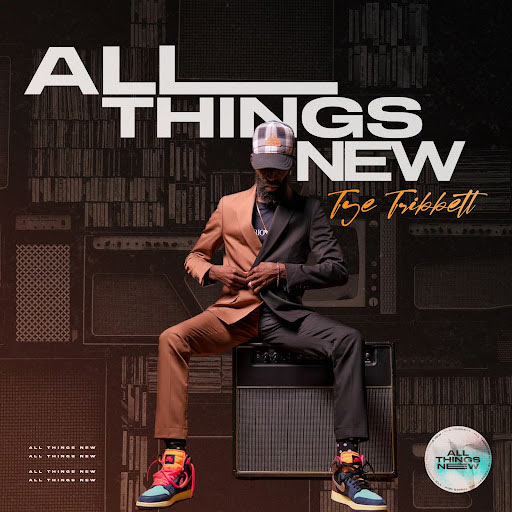 NEWS SOURCE: Shore Fire Media
May 31, 2022
Two-time Grammy-, Soul Train Music-, Stellar-, and Dove Award-winning Tye Tribbett is readying the release of his new album All Things New, out July 8 via Motown Gospel. The musical powerhouse is one of the most relevant voices of our generation. "This new album is my celebration of God doing New Things!" says Tribbett. All Things New is a must-hear musical evolution of one of music's most iconic artists.
To accompany the album's pre-order, Tribbett shares "New" – a single off the forthcoming effort. "New" is a testament to Tribbett's ability to stretch the bounds of his musical identity beyond the genres and styles that so closely define his roots as a creator. This track instantly grabs with the entrance of monastic, chanting vocals, giving off that feeling of communal acceptance you experience when standing at the center of an overwhelmingly excited crowd. As Tribbett emerges from the crowd, he commands attention, "new, new, new, everything new," with unmasked confidence and power emanating from every syllable. "New" exists within an ideal intersection of modern hip-hop sensibilities (drawing from the likes of Kendrick Lamar and Chance the Rapper) and referential ties to his gospel and blues background. Tribbett's latest single explores some uncharted sonic territory, all while maintaining the qualities that make him so singular.
Tye Tribbett has had a tremendous career and is globally-known for his charismatic, energetic, dynamic personality, and range – from delivering high-energy praise songs to intimate worship moments and even African rhythms to trap beats. His music cannot be classified as just one genre, but his unique, abstract way encompasses all, which has helped him garner many awards and accolades, including: two Grammy wins & seven Grammy nominations, five #1 albums, four #1 digital tracks, three #1 radio singles, and ten Billboard Top 10 songs.
Pre-Order All Things New HERE
All Things New tracklist
1. All Things New
2. Get Up
3. Be Alright
4. Immanuel
5. Walk By Faith feat. PJ Morton
6. We Need You Intro
7. We Need You feat. Kierra Sheard and Mali Music
8. Anyhow Intro
9. Anyhow (Hallelujah)
10. Holy God Interlude
11. Saviour feat. Tim Bush
12. Great Is Our God feat. Tim Bowman, Jr.
13. IDK
14. So Good
15. New
16. Revive Us feat. Jalisa Faye
17. Anyhow Reprise feat. Kim Burrell, Jekayln Carr, Isaac Carree, Zacardi Cortez, Tasha Page & Isaiah Templeton
Connect with Tye Tribbett
Official Site | Facebook | Instagram | Twitter | YouTube
###