NASHVILLE WORSHIP COLLECTIVE LAUNCHES WITH DEBUT SINGLE, VIDEO "WATERY GRAVE"
New worship collective seeks to unite worship leaders through connection, empowerment and training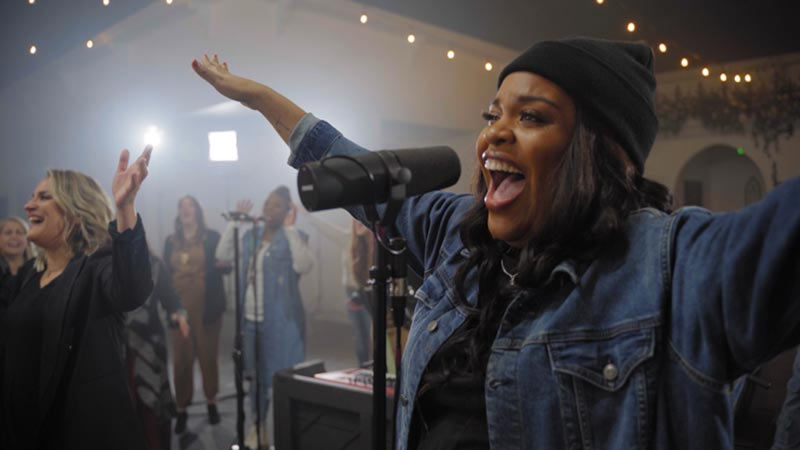 NEWS SOURCE: 2911 Media
August 3, 2022
NASHVILLE, Tenn. - Nashville Worship Collective (NWC) is proud to announce the release of their debut single, "Watery Grave." Recorded live in early 2022, "Watery Grave" is the first release from their forthcoming EP, 'Nashville Worship Collective Volume 1' which will include three more releases this year. The collective was formed to unite worship leaders through connection, empowerment, and training in the Nashville area with the purpose to spread the gospel far and wide through music.


Will B. Smith II, the founder of Nashville Worship Collective, along with Jasmin Foreman and Kristin Hill co-wrote the debut single, and faithfully serve on the Bethel World Outreach Church worship team in Brentwood, Tennessee.

"I love passionate worship. For me, it comes from a place of gratitude for what God has done for me," says Smith. "What I love about NWC is that we all come from different walks and churches, but we unite for one common goal, and that is to worship Jesus. Where there is unity, God commands a blessing. This song, 'Watery Grave,' is like a new, and an old, believer's anthem. It refers to that special day when we choose to make both our private confession, and our public proclamation to the world, that Jesus is Lord of our lives, and therefore we leave the past behind!"

"Nashville Worship Collective is phenomenal. As a worship leader for nearly ten years, I've learned that community and serving alongside others are absolutely critical, even outside of our own personal churches," says Foreman. "That space is provided by the collective, and it has been a beautiful experience. 'Watery Grave' holds special meaning for me because my baptism was one of the most life-changing events of my life. I believe that just as heaven rejoices for souls being brought to Christ, so should we here on earth, and 'Watery Grave' draws that joy."

"The song 'Watery Grave' is a part of my testimony," Hill states. "I was that prodigal child… but it was the love of Christ, His acceptance of me… and His forgiveness, that set me free. There are things in all our lives that need to come up and OUT of the dormant, lifeless state. The watery grave wipes the slate clean and that's when you see and feel the wonderful change!"


"Watery Grave" lyrics

I have new life in you, my past is thrown into
The well that cleans my soul, God You made me whole
I know who I am now, in spite of who I used to be
I've been adopted by Jesus and your love has rescued me

I came out of the watery grave
My soul saved
A wonderful change

My guilt overwhelmed me, a burden too heavy to bear
I was a prisoner of sin held captive by fear and despair
I have been down that road, God You know my story
A prodigal child but you used my wild for Your glory

I came out of the watery grave
My soul saved
A wonderful change

Take me to the water
Wade in the water
Leave my past behind


Nashville worship collective is excited to share the new song with the world and is looking forward to releasing more music in the coming months.

"We were buried therefore with him by baptism into death, in order that, just as Christ was raised from the dead by the glory of the Father, we too might walk in newness of life."
- Romans 6:4 ESV


Website | Facebook | Instagram | YouTube | TikTok | Twitter


About Nashville Worship Collective:
In March of 2020, churches stopped meeting in buildings due to the pandemic. Pastors from the greater Nashville community came together to form "BOW," or Beyond Our Walls. Several local churches gathered together on Pentecost Sunday of that year to worship outside at a neighboring fairground. It was a moving experience. The founders then came to understand the importance of church unity and reasoned that if the churches could unite, so could the worship teams. Nashville Worship Collective was established with that same idea. NWC comprehends that gathering worshippers unites the city, and what follows is the sound of unification. Worshippers from more than 10 churches are now participants in Nashville Worship Collective. They strive to worship together in unity, monitor the worshipper's wellbeing, and give them encouragement. For more information, please visit nashvilleworshipco.com.

About 2911 Label Group:
2911 Label Group, a division of 2911 Enterprises Inc. was created to provide a home for independent artists to reach a broader audience with their works. In partnership with The Label Group, 2911 offers distribution through INgrooves (Universal) to all major digital service providers as well as playlist promotion and marketing to gatekeepers and key decision makers around the world. 2911's founder, Jeremy Westby, has previous marketing experience at Provident Label Group, including the Reunion, Diadem, Benson, and Brentwood imprints. He began his music career on-air at KJLY (Kinship Christian Radio) in southern Minnesota and even had a two-year stint as Avalon's tour manager. 2911 Media has served the music industry since 2017, helping shepherd and promote a great stable of artists, venues, and events. For more information, visit 2911.us.
###