SKILLET RIAA CERTIFICATIONS CONTINUE "Monster" certified 5x platinum, Comatose certified platinum, "The Last Night" certified gold
12x platinum rockers blitz European rock festivals, performing to over 300,000 fans

Guitarist Seth Morrison partners with Westminster Effects on 2716 Seth Morrison Signature Distortion pedal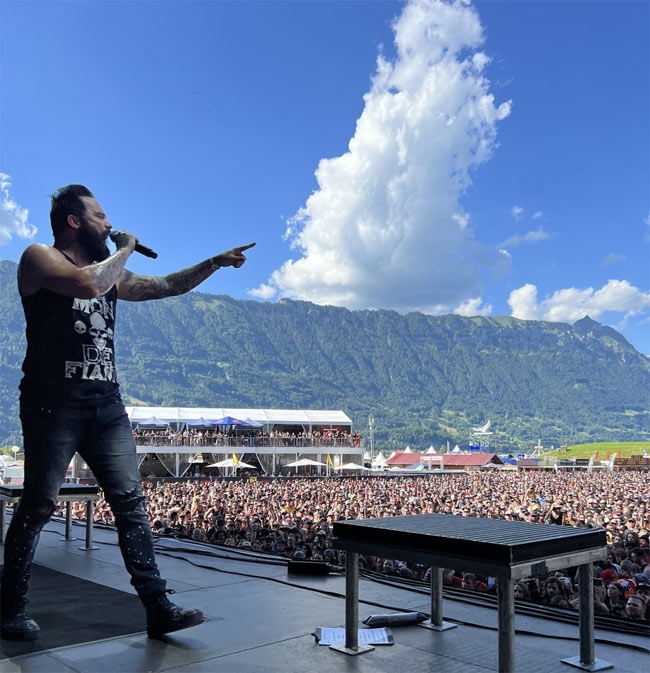 John Cooper in front of the crowd at Greenfield Festival, Interlaken, Switzerland; CREDIT: SKILLET

NEWS SOURCE: The Media Collective
August 3, 2022
NASHVILLE, TN... August 3, 2022 - 12x platinum rockers SKILLET recently returned from Europe after a summer trek of eight countries, playing in front of 300,000 including Austria, France, Italy, Switzerland and the UK. This was the band's first trip back since their 2020 tour dates had to be cancelled due to the pandemic. Skillet has amassed a rabid international fanbase throughout their career, selling out arenas in 26 countries and four continents.
Talking about their return, lead singer John Cooper remarked, "It was actually a bit emotional. Before covid we toured Europe almost every year, so to be back was just amazing. International travel isn't what it used to be, ha ha, but we had a fantastic time - these crowds were more than ready to rock, and we can't wait to go back."
Adding to their growing list of RIAA certifications, the band returned to U.S. soil to find their Comatose album had garnered platinum certification, while the track "The Last Night" was certified gold. These follow last fall's triple-platinum status of their landmark album Awake, and hit tracks "Awake & Alive," going double-platinum, "Hero," triple-platinum, and "Monster," already one of the most-streamed rock songs in history, hiting 5x platinum status.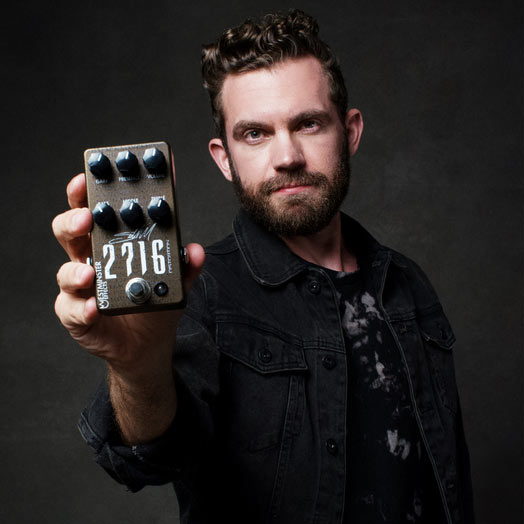 Guitarist Seth Morrison has also recently announced a new partnership with Westminster Effects to create the 2716 Seth Morrison Signature Distortion pedal,
available here
.
Providing professional, quality high gain tones the pedal takes cues from classic high gain tube amps such as the Mesa Boogie Dual Rectifier Rev F to take tonal dominion over guitars - from hard rock to mid-2000s pop punk, to the heaviest of metal.
"It's been an awesome experience working with Westminster Effects on a signature pedal," recalls Morrison. "As a guitarist it's exciting to put your name on something as a signature product and then to have the great response it's had so far. The pedal is meant to capture my sound that people hear at Skillet shows. A great, heavy sound except in pedal form."
Get Connected with Skillet:

Website:
www.skillet.com
Facebook: @Skillet
Twitter, TikTok & Instagram: @skilletmusic
SKILLET is one of the best-selling rock bands of the 21st century. The two-time GRAMMY® Award-nominated , Pandora Billionaires Club members, multiplatinum rockers have an undying spirit that has humbly asserted and affirmed them as one of this generation's most successful rock acts. However, as all classic underdog stories do, it happened quietly under the radar. By 2019, they not only garnered a pair of GRAMMY® Award nods and sold over 12 million albums worldwide, but they also took home a Billboard Music Award for the double-platinum Awake. Its breakout single "Monster" is 5x platinum and remains "one of the most-streamed rock songs of all-time." 2016's Unleashed bowed at #3 on the Billboard Top 200. Hitting #1 on Rock Radio, the lead single "Feel Invincible" cracked 643 million global audio streams and went platinum. Meanwhile, the gold-certified Unleashed became their fourth consecutive album to receive either a gold, platinum, or double-platinum status. Their 2019 release Victorious included the top ten rock radio hit "Legendary," which lived up to its name with over 108 million streams. To date, nine original tunes earned RIAA recognition in tandem with high-profile syncs by everyone from WWE and Marvel to ESPN and NFL. Between selling out arenas in 26 countries and four continents, the group performed on CONAN and graced the pages of USA Today and The New York Times, Skillet debuted their first graphic novel, EDEN: A Skillet Graphic Novel with Z2 Comics, which became the publisher's best-selling book of all time, followed by EDEN II: The Aftermath. Skillet's latest proejct, DOMINION, is available now.
###
For more info on SKILLET, visit the JFH Artists Database.