ACCLAIMED SINGER/SONGWRITER AND AUTHOR ELLIE HOLCOMB ANNOUNCES HER THIRD CHILDREN'S BOOK: SOUNDING JOY (B&H PUBLISHING GROUP)
ACCOMPANYING EP - SING: CHRISTMAS SONGS - WILL RELEASE THIS FALL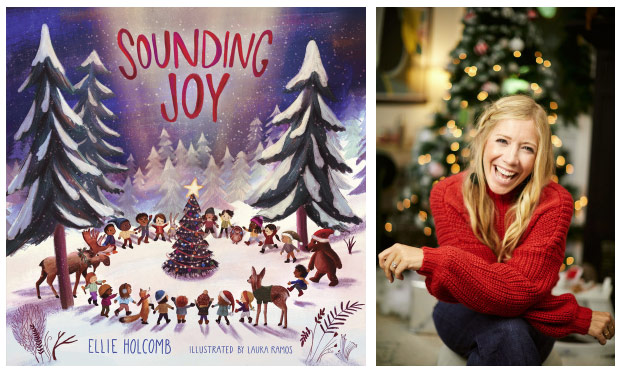 NEWS SOURCE: Merge PR
August 23, 2022
NASHVILLE, TENN (AUGUST 23, 2022)
Renowned singer-songwriter and best-selling author,
Ellie Holcomb
, will be releasing her third children's book,
Sounding Joy
, will be available on September 20th (B&H Kids/B&H Publishing Group). The Christmas book explores the question of what joy sounds like as the reader travels through beautiful Christmastime scenes in the illustrated board book. The illustrator for
Sounding Joy
is Laura Ramos
.
Holcomb's sweet and lovely celebration of Christmas encourages each reader, young and old, to lift up their voice and repeat the sounding joy!
Click here
to pre-order
Sounding Joy
.
"This book is an invitation into the magic, joy, and hope of Christmas," shares Ellie Holcomb. "It invites all of us, from one to 92, to be kids again, to gather with the ones we love, and to lift up our voices to sing the songs of hope we have because of the Christmas story. I hope amidst the bustle and busyness and fun of the Christmas season, this book creates a moment for families, to ponder the beauty and hope of Christmas that always gives us a reason to sing."
In addition to her book, Holcomb will also release an accompanying EP, Sing: Christmas Songs, featuring classic and original Christmas songs. Sing: Christmas Songs is inspired by the song "Joy to the World," and it's an invitation to sing about the hope we have because God put skin on and moved into the neighborhood.
"We were singing 'Joy to the World' last Christmas, and got to the line, Repeat, repeat the sounding joy," Holcomb recalls. "It got me thinking, what does joy sound like, and what does it mean for us to repeat it? I had so much fun thinking about all the sounds I associate with joy, and remembered my most favorite story of all in the process, the Christmas story that whispers and sings over and over again that we are not alone, that Love always comes to find us, and that hope is alive in the person of Jesus. This is a story and a light that we get to sing and share, we get to go tell it on the mountains."
Sounding Joy is Holcomb's third children's board book exploring questions that spark children's curiosity. Her two best-selling children's books through B&H Publishing Group (Don't Forget to Remember, 2020 and Who Sang the First Song, 2018) spent several months on the Evangelical Christian Publishers Association (ECPA) juvenile bestseller list and was a finalist for the Christian Book of the Year in the children's category (for Who Sang the First Song). Last year, she released her first devotional book, Fighting Words - 100 Days of Speaking Truth into the Darkness, which also spent several months on the ECPA bestseller list for all Christian books.
About Ellie Holcomb:
For eight years, she recorded and toured full-time with her husband's band, Drew Holcomb and The Neighbors, before stepping off the road when her first child was born. Her solo debut,
As Sure As The Sun
(2014), landed her a Top 10 hit on Christian radio with "The Broken Beautiful" and a GMA Dove Award for "New Artist of the Year." Her critically-acclaimed sophomore LP,
Red Sea Road
, followed in 2017. In subsequent years, Holcomb has released two children's books - each with a companion EP of original music written specifically for kids, the second of which earned her a Dove Award for "Children's Album of the Year," in 2020. In 2021, she released her third full-length solo project,
Canyon
, to much acclaim. "A deeper sorrow, a higher hope; to be broken is to be human," Ellie Holcomb says to sum up the content of her latest album. For more information visit:
ellieholcomb.com
###
For more info on Ellie Holcomb, visit the JFH Artists Database.