New Single from Kate Stanford YOUR HEART Set to Release Valentines Day, February 14, 2023
Produced by Cindy Morgan, YOUR HEART showcases Godís Unconditional Love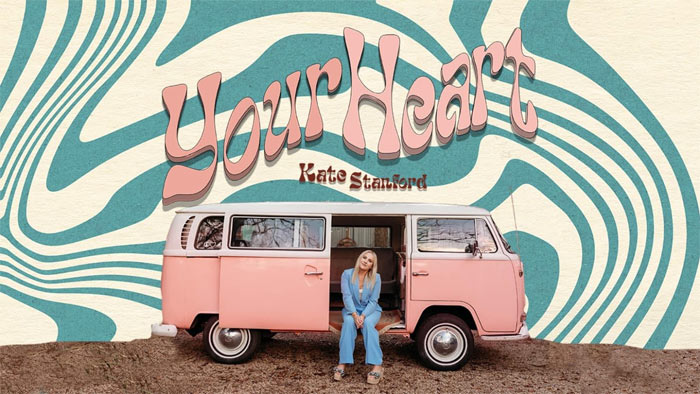 NEWS SOURCE: Biscuit PR
February 9, 2023
Austin, TX - Kate Stanford, a rising vocal tour-de-force in the world of Christian Music, is set to release her newest single YOUR HEART on February 14, on all major music platforms, including Spotify, Apple Music, and YouTube.
YOUR HEART promises to be a divine love song just in time for Valentine's Day. With lush harmonies showcasing her ethereal vocals and an upbeat sing-a-long chorus, the song celebrates God's unstoppable and unconditional love, and our hope that the world will be transformed by His promises.
Kate shares, "YOUR HEART is a Christian love song about God's unconditional love for us. No matter who we are, God will meet us with grace. He WANTS us to come as we are, He doesn't need perfection. I believe that the ultimate love is God's love, and to release this song on Valentine's Day is a great way to celebrate that"
So just let him have your hard days
Every single time you feel afraid
He'll take those battles that you can't face
His Love makes it all feel light weight
Yeah that's right
You know it's true
The one thing he wants from you
He just wants your heart
Every single part
He knows where you're at
Don't hold nothing back
There ain't no shame in being real
Cause He knows how you feel
You're a living moving breathing
Work of art
And he just wants your heart
He just wants your heart
Kate continues, "We are all imperfect and inherently flawed humans. One does not have to be the "perfect Christian" to deserve God's love. We deserve it all of the time at any stage in life."
For YOUR HEART, Kate once again enlisted the talents of two-time GRAMMY nominee, writer/ producer Cindy Morgan, who previously produced several songs for the young artist. As their partnership continues to blossom, Cindy continues to mentor Kate's songwriting and vocal talents, creating an unmistakable signature sound.
While music is always her passion, her drive doesn't stop there. Kate balances her career with her education, as she is months away from graduating from the University of Texas. "I wrote YOUR HEART with the intention of singing it in the spring/summer time. I wanted it to be upbeat & to have a great groove - a "roll your windows down" kind of jam. I have upcoming shows both this spring and after graduation, and singing this will be a perfect way to celebrate!"
YOUR HEART tour dates:
03/24/2023 - Uxbridge, MA
03/25/2023 - Fairfield, CT
03/26/2023 - Tiverton, RI
YOUR HEART by Kate Stanford will be available to stream and purchase on all major music platforms February 14, 2023. KateStanfordMusic.com
###