Curb | Word Entertainment's We Are Messengers Releases Acoustic Version of "Wholehearted (feat. KB)," Today 6/23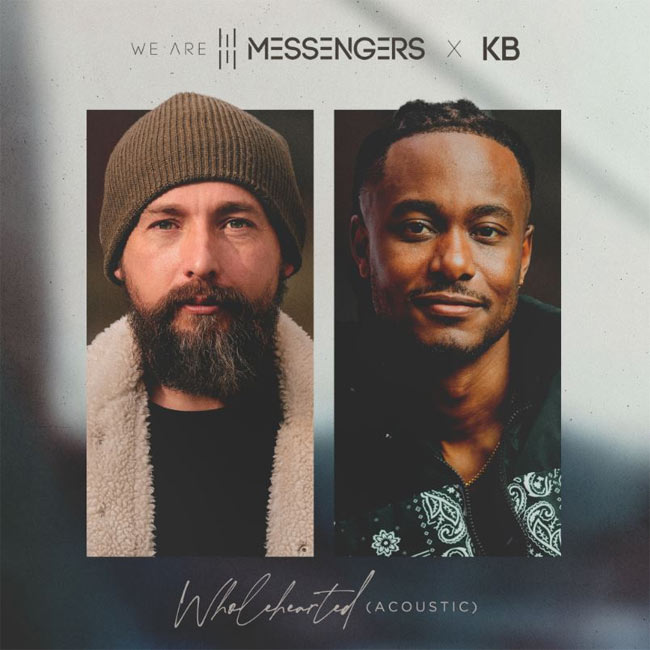 NEWS SOURCE: Curb | Word Entertainment
June 23, 2023
We Are Messengers releases a new acoustic version of the title track "Wholehearted," from their third studio album, which features CHH legend, KB. The driving pop anthem boasts of a God who extends forgiveness and grace freely and loves with His whole heart. Personal lyrics color the song co-penned by the band's Irish-born frontman. Listen to the track HERE.
"Wholehearted (Acoustic) [feat. KB]" was written by Darren Mulligan, Jeff Pardo and KB; and produced by Jeff Pardo.
About We Are Messengers:
We Are Messengers has over 408 million career streams, over 2.7 billion airplay audience, and a multi-week #1 Billboard radio song ("Come What May"), along with six Top 5 and ten Top 10 Christian Airplay hits with "Image of God," "Power," "Maybe It's Ok," "Magnify," "Point To You," "Love," "Everything Comes Alive," "God With Us," "This Is Jesus" and "From Heaven To Earth (Joy To The World)." The band has had multiple sync film and TV placements on major networks including Lionsgate, MTV and CBC. We Are Messengers has played for a live audience of over 2 million people across 40 states and 5 countries, including selling out shows in the Netherlands, England, and lead vocalist Darren Mulligan's native Ireland. Following consecutive USA arena tours with TobyMac and Casting Crowns, the band headlined the
About Curb | Word Entertainment:
In 2016, Curb Records acquired Word Entertainment, combining two of the music industry's most respected global brands, and more than a century of collective experience. Today, Curb and Word are two of the world's leading independent music companies. Owned and operated by Mike Curb, the Curb | Word family includes the labels Curb, Word, Squint, Fervent, Sidewalk, MCC and IVAV, as well as Curb Publishing, Word Publishing, 25 Live, Curb Films, Word Films, Word Entertainment, and Curb Sports, representing top artists and entertainers in Country, Christian, Pop, Rock, and Hip-Hop. For more information, visit www.curb.com.
###
For more info on We As Messengers, visit the JFH Artists Database.
For more info on KB, visit the JFH Artists Database.