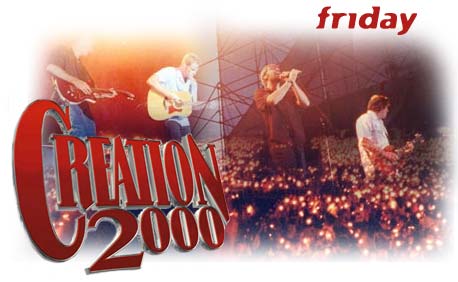 Shaded Red, Earthsuit, Out of Eden, Third Day, Steven Curtis Chapman, Justin McRoberts
6/30/00, Mt. Union, PA. at the Agape Farm.
Ah, yes! Another full day of Creation! Creation spells for me: Concerts and vacation. It's a nice long week to just get out of your normal routine. Who cares that I had to work. The work was still a nice vacation. Once we got up and out of our campsite to the FF booth. We were starting a new day. SHINEmk were playing behind us, and not to sound mean, but I had just seen Chicken Run on the 24th and I could not help but think of the English female chickens in the movie when I heard some of SHINE's members' accents. SHINE did put on an energetic show and sounded good. At 1pm, we were treated to Phil Keaggy and his band as they put on a really stellar show. Although I'm not familiar with his music and didn't get to see the show up close (but rather heard it from a distance), he still sounded awesome and is an amazing person to see (or hear) live.
At 2pm, a bunch of us headed down to the Fringe Stage to catch Shaded Red's live performance. A first for me, much like Switchfoot. Jamie Roberts sported sunglasses and a sleeveless blue shirt while his brother did the same (only black) with cowboy-style pants. The rocked the crowd with their hit, "Hello" and proceeded to play other favorites as "Revolution," as well as a new song called "Run to Me." The highlight of the show, though, was when Jamie paused to share with the crowd an emotion-filled story about his dad who recently died on Jamie's birthday. With me and my colleagues quietly holding back tears, they played "When God Ran," a ballad about God's love for the prodigal son.
After SR, I headed back to work for about 45 minutes and was then relieved to go see Earthsuit. I was blown away by this band. Although I had heard some of their material prior to their live performance and wasn't very impressed, their live show grabbed me and got my attention. I hadn't seen such an energetic performance since Reality Check. These guys rocked. I was amused to find Steven Curtis Chapman backstage watching the band from behind. He was clearly enjoying and getting into the music. Earthsuit played "Wheel," "Noise for Your Eyes," "Schizophreniac," "One Time," and "Said the Sun to the Shine." At one point, the band got "serious" for a moment to alert the audience and ask them to join them in signing a petition to return something very important to the kids' public schools. Yep, you guessed it... Swedish Fish.
At around 5:30ish I found myself back by main stage where I hung out and caught
Out of Eden
's set. They played a lot of their hits including "Lovely Day" and "More than You Know," (I think) and "Lookin' for Love." All dressed in white, the 3 sisters danced around energetically, accompanied by other dancers. I believe after OOE, I returned to work for a couple hours before given the night off to see the night shows.
Third Day rocked main stage (as usual) with their excellent southern rock. Lead singer They opened up with "I've Always Loved You," the hit rock ballad off their latest album Time. Mac Powell proceeded to encourage the crowd by telling them they were part of the band for a Third Day show. They announced their upcoming worship album, Offerings, and played such favorites as "My Hope is In You," "Believe," "Sky Falls Down," "Alien," and "What Good."
To close out the night, was the Paducah, Kentucky-raised Steven Curtis Chapman. Sporting a blue dress shirt and black slacks, Chapman seemed set out to prove he ain't too old for this stuff. He rocked out such favorites as "Lord of the Dance," "Change," and "Speechless," with an energy that was captivating and infectious. At one point Steve confessed, "OK, I have to admit, I saw Earthsuit's show today and I think it rubbed off a little." He slowed things down a bit for the emotional "Free" before giving a rowsing performance of "Great Adventure" before leaving the stage. However, like the Newsboys the night before, you can't fool the fans. Chapman came back out to perform his awesome hit "Dive," which where, even at one point, he forgot the words. Calling attention to it in a light-hearted manner, he proceeded to the famous chorus that had a majority of the crowd singing along.
Directly following his set, Chapman remained on stage as the main event speaker came out to announce the candlelighting service and explain the procedure. We were back stage at the time and were perplexed at the continuing growth of the number of people joining us back stage. We all received candles and once most everyone in the audience's was lit, they ushered us all out onto the middle of Main Stage where we were awe-struck at the sight of the sea of candle lights. "We are the light of the world..." the speaker said. Right then and there, looking out into the crowd, it hit me really hard God's call for us and how important evangelism is. I felt at home for the first time in months on stage seeing all those candles and knowing they were all believers like me in the same boat being out in the same tought, persecuting world.
When it was all over, we stopped to talk to SCC's drummer and briefly got to meet Steven before proceeding to the Acoustic Cafe' where Justin McRoberts was hamming it up. One of the funniest things about Justin is his personality and the music he plays. He's got a comedian personality while his music is very serious. It's funny just to see him go from cracking jokes and telling funny stories, to a serious song about God or love. He played "The Story Stands Alone," and a new song called "Love as Love." Then he gave a hilarious intro to "5th Wheel," explaining what incident inspired the song. Later he sang "Michael's Hands," and gave a long, serious intro to that song, telling of how Michael was a boy he met while working for Young Life and he was someone who made a lot of bad decisions and Justin, through God's power, loved Michael unconditionally and eventually he came to know the Lord. Justin's set was the perfect ending to a day of some really great shows. We headed back to our camp where we had a campfire with some of our neighboring camp friends.
Creation 2000: Friday Photo Gallery
click on an image for a bigger size
Shaded Red
-- 2:00pm Fringe Stage
Earthsuit -- 4:00pm Fringe Stage
Out of Eden -- 5:40pm Main Stage
Third Day -- 8:45pm Main Stage
Steven Curtis Chapman -- 10:00pm Main Stage
Candlelighting -- 11:15pm Main Stage
Justin McRoberts -- 11:45pm Acoustic Cafe
*all photos by
John
or
Amy
and are the property of
Jesusfreakhideout.com
Wednesday | Thursday | Friday | Saturday