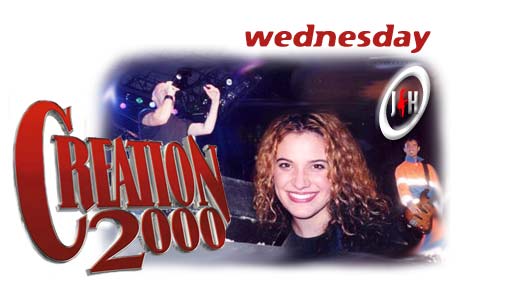 Rebecca St. James, Supertones
6/28/00, Mt. Union, PA. at the Agape Farm.
We've been trying to get back to Creation since I went in '98 and Creation 2000 was the best possible second-time experience we could have had. And we want to take you with us. We helped out our friends at Forefront Records for the week, and although we had to work often, we still were able to catch a lot of shows.
We got there Wednesday afternoon, waited in an endless line of cars entering the farm, finally got to the main merchandise (aka merch) pavilion, touched base with the FF crew, then proceeded to our camp to set-up. Later that night, we got back to the merch area to start working for FF and The Katinas, followed by Raze could be heard behind us, down the hill, at the main stage. From what we heard, Raze put on the powerful show they're known for and played such hits as "Always and Forever" and "All Around the World."
Rebecca St. James went on around 8:35pm. She played a couple new songs off her forth-coming album in October, as well as such hits as "Pray" and "God." Although I missed 95.6% of her show (Kevin, I'm just starting to forgive you :) ), it sounded great as usual. Around 9:45, donning bright orange firemen outfits complete with reflectors, the O.C. Supertones rocked the stage with "Adonai." Like Rebecca, they played some new songs from their album due out in September, as well as songs like "Unite," "Away From You," and "So Great a Salvation." They ended the evening with a drummer Jason Carson leading acoustic worship singing praise songs and leading the crowd of several thousand in song. With a screaming crowd asking for more, they came back for an encore with "Supertones Strike Back."
Although a long, tiring day, the concerts seemed short, but hey, we had 3 more full days ahead.
Creation 2000: Wednesday Photo Gallery
click on an image for a bigger size
Rebecca St. James
-- 8:35pm Main Stage
The O.C. Supertones -- 9:45pm Main Stage
*all photos by
John
or
Amy
, except for the one of Cor with the Rebecca, and are the property of
Jesusfreakhideout.com
Wednesday | Thursday | Friday | Saturday