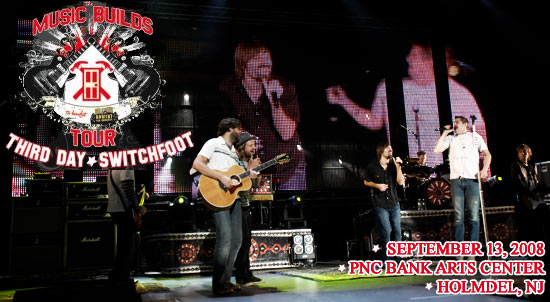 Third Day, Switchfoot, Robert Randolph, Jars Of Clay, Red
9/13/08, at PNC Bank Arts Center in Holmdel, NJ
It isn't common when a tour is put together with the caliber of The Music Builds Tour. Not only does the billing bring together three top Christian market acts like Third Day, Switchfoot, and Jars Of Clay, but it also incorporates the jam-band talents of Robert Randolph, and select dates add hard rock act Red to open. The tour's formation was announced earlier this year and celebrated with a launch party at GMA Music Week in Nashville in April, but even with how solid the kick-off was then, it can barely hold a candle to the real deal that launched this month.
With such a billing and quality production, it's no surprise that the premium seating tickets are going for over a hundred bucks. However, only a small number of seats are going for that price, leaving plenty of more spots in the audience that are more reasonably priced. For the particular date we caught at the PNC Bank Arts Center in New Jersey, the venue was a covered but wide open amphitheater with seating options that included some cheap nosebleed spots on the grass. With five bands on this date, the doors opened at 5pm with a start time aimed for 5:15. However, when Red began closer to 5:30, only a fraction of the attendance had actually showed up, so the rock band had to play to only a handful of people.
Red opened the night to a skeleton audience with selections from their freshman release, End Of Silence, starting with "Let Go." It was still light out during their set, so the on stage lighting wasn't all too visible. And since Red had been added to the tour late, the stage looked a little cluttered with their gear as well as Jars' gear since there had to be a quick transition from set to set. Displayed behind the band was an enormous screen made up of small LED lights that often displayed patterns and videos, or in Red's case, their album cover image. On either side of the stage hung large screens displaying the same image, which a cameraman down front was capturing live. As the concert goers kept trickling in, Red continued with "Hide," "Already Over," and closed with "Breathe Into Me," to end their four-song set. While Red was a decent opening act, they did feel tacked on to the beginning of the tour (But although knowing that knowledge going into the night aided in that feeling, whenever any of the bands mentioned the other bands on the tour, Red was not among those noted).
The time between Red's brief set and the actual start of the Tour's lineup seemed particularly long, but soon Jars Of Clay walked out, clad in all-white, to a now-mostly full amphitheater and opened with the biggest hit of their career, "Flood." Now as more of an indie act than on previous tours, it's a smart move to remind their audiences just exactly who they are by starting off with their most recognizable song. Most of the artists on the billing are primarily Christian market acts, but all have had some kind of crossover experience, especially Switchfoot, so it's a great way to jog the memories of any mainstream radio listeners that wouldn't otherwise know these kinds of bands. Due to the company Jars Of Clay is keeping on this tour, their set consisted of mostly upbeat rock or pop rock tunes. "Love Is The Protest," from their Essential Records hits project was next, followed by the title track from their new EP, Closer, as well as the new rendition of "Love Song For A Savior" from the same release. Vocalist Dan Haseltine took a moment to plug the EP and then mention their upcoming March, 2009 full-length album before busting out a brand new rock song titled "Heaven." The mixture of updated classics as well as more recent rockers was a winning combination, giving a glance at the past while at the same time focusing on the future. They may be a seasoned band, but they are far from finished producing great songs. From there, Jars Of Clay closed their set nicely with "Work" and "Dead Man (Carry Me)" from their latest full-length studio record, Good Monsters.
In between sets, the jumbotron screens promoted the tour and their partnership with Habitat For Humanity, encouraging tour patrons to support the home-building organization. After another lengthy intermission (which Jars used to gather outside to sign autographs), a mother and daughter who've benefited from the efforts of Habitat For Humanity introduced the next act: Robert Randolph & The Family Band. Randolph emerged with his entourage of ridiculously talented musicians, taking a seat behind a pedal steel guitar where he would remain for most of their set. Much of their performance felt like improv. It was the first time I've ever seen Randolph and his band in concert and it was really the first time I was genuinely hearing his music. Robert's style is the kind of music that is best experienced live, something that became more and more evident with each song. But since I'm unfamiliar with Randolph's work, his songs seemed more like spontaneous jamming than written songs. But the singer hit the nail on the head when he equated their music with having church, and by one of the last songs of their set, more than just a few members of the audience were dancing in the aisles. Arguably, however, the set highlight was the jaw dropping finale which saw Randolph and each member of his band switching instruments. Randolph went to the drums while the drummer went to the steel guitar, the bassist went to the drums, Randolph to the bass, and so on. There aren't many bands where you can say that each member played each instrument with the comfort and ease of it being their chief instrument. Their set was well-received by the audience despite the fact that their music didn't quite fit in with the rest of the artists on the roster. But that was part of the beauty of the Music Builds Tour -- incredible diversity from band to band. But before long, Robert Randolph, a New Jersey native himself, left the stage (and the venue, presumably to visit some local family), for the final two acts of the evening.
Bathed in subdued lighting, San Diego rock quintet Switchfoot made their entrance with their popular single "Stars," and continued into the title track from their most recent album, Oh! Gravity. Although we saw them open for Third Day at the launch party, it still seemed a bit surreal to be seeing Switchfoot opening for another band once again, after the guys had previously done this for years back when they were just a trio but upgraded to headliner when they found mainstream success. But not only has their band grown in size over the years (with the addition of Jerome, and later with second guitarist, Drew), but their show has grown increasingly more dramatic. While still fun in many ways, front man Jon Foreman's stage presence has grown a bit more theatric in mood. When he speaks about issues - whether carefully brushing elbows with politic topics or spiritual issues - they're often cryptic for the sake of being poetic or poignant. Gone are the days of the college-age trio singing about Chem classes or company cars. I guess these changes stand out so much more when sandwiched between a free spirit like Randolph and the jovial down-to-earth blue collar personalities of Third Day. Regardless, love or hate the changes Switchfoot have made, they still put on a strong indie-flavored pop rock set. This is evidenced with the following song, as Foreman announces, "This will probably be the only Beyonce cover you'll hear tonight!" and the sounds of "Crazy In Love" ring out in rock form. But after the intro, Foreman quickly adds, "this one is ours!" as they cut immediately into "Gone," which later mixes in the chorus of "Crazy In Love" as a sort of interlude. Ultimately, it's the silliest and most random moment you'll find at a Switchfoot show, but it works. The slower, more serious rock ballad "This Is Your Life" was next, complete with Jon's classic singing-into-the-guitar finale. From there, Jon addressed the audience in his usual pensive demeanor, reflecting on life in the United States and the desire for more than just living for ourselves and acquiring possessions. It served as a nice bridge between "This Is Your Life" and the inevitable follow-up, "American Dream," which featured images of Vegas displayed in the lights behind the band. A medley of "We Are One Tonight" and "The Shadow Proves The Sunshine" followed, along with "On Fire," which prompted Foreman to wade into the audience. And even before he reached the stage once again, Switchfoot launched into the catchy "Awakening," followed by "Dare You To Move." It was during the latter song that, for the first time that night, a backdrop of white and blue lights illuminated to simulate a starry sky behind the band as they played. And finally, Foreman offered a slightly overly dramatic introduction to their fabulous closer, "Meant To Live," to take their set out on a high note. All in all, it was a solid ten-song set that was sadly too short to leave any room for the band to offer the kinds of surprises you'd get from them if they were the headliner, but their performance was still a wonderful addition to a great night of music.
Another intermission preceded the final act, Atlanta southern rock band Third Day. As the lights dimmed again, the live feed from a handheld camera that the band had pointed on themselves displayed across the three on-stage screens. And as the guys walked out on stage and began the lead off track "This Is Who I Am," from their new album, Revelation, vocalist Mac Powell carried the camera with him, turning it on the crowd to display their image on the screen behind them. We had just seen their live performance exactly a week before at Rock The Universe and I had been rather surprised then that the guys hadn't opened their set with this song. However, given that the setting was a large festival with a mixed audience and not a grand Fall headlining tour, it shouldn't be a shock that they would break from the tour format for a different setting. The crowd pleasing "Rock Star" was next with the band then launching into their cover of Rich Mullin's "Creed," complete with guitarist Mark Lee's intro solo. Another new track, "Slow Down," followed, appropriately incorporating images of traffic on the video screen behind the band, while images of Fall showed during an acoustic performance of "I've Always Loved You." I've admired how Third Day has always been a fan-minded band, so when a few fans held up a sign that stated they were getting married in two weeks and wanted to hear "Love Song," Lee didn't hesitate to launch into the guitar part while Powell offered to play a portion of it just for them. After that, Powell reminisced about a local concert promoter who had supported the group during their early days, mentioning that he had heard the man was in attendance. After getting him to stand up and reveal himself, Powell joked that he could have gotten him better seats before dedicating the song "Thief" to him. The Rock The Universe encore just a week earlier was next, "God Of Wonders," followed by that evening's opener, "Tunnel," before Powell introduced bassist Tai Anderson who once again shared about Third Day's participation in a USO Tour in January (and being the first Christian band ever to do so). After Anderson urged the audience to remember our troops, he dedicated the next song, "I Will Always Be True," to the country's soldiers. Scotty Willbanks offered a solo on the keys as an introduction for "I Believe," followed by the title track for their latest record, Revelation, and a word from Powell about the album's title, including a reassurance that the band feels as if they've entered into a new chapter in their story and not the end, following last year's release of the two-part Chronology hits project. A truncated version of "Cry Out To Jesus" preceded their set closer, the hit single "Call My Name," and the band took their exit from the stage.
The lights stayed dimmed and the wait wasn't very long before Third Day returned to the stage for their encore. Even since the Spring, the guys have been performing new track "The Otherside" as an encore, which Robert Randolph appears on on the album recording. Unfortunately, since Randolph left the party early, he couldn't perform the encore with the band, which was a bit of a disappointment since I'd assumed with him on the tour they'd make use of that opportunity. However, the evening didn't wind down after the infectious rocker. Powell asked the crowd if they'd like to see Jars Of Clay again and invited the band to come back out to play the hymn "I'll Fly Away" with them. It was quite the treat to see Dan Haseltine and Mac Powell sharing vocals (and they jokingly performed a chest bump just for fun), and guitarists Mark Lee and Matt Odmark performing side by side. The fact that both bands were visibly having fun made it an even more enjoyable moment... which clearly only got better when Powell invited Switchfoot out along with Jars to perform a cover of U2's "Love Came To Town." Powell candidly nominated Jars' Steve Mason to fill in for Randolph's verse in his absence, while Switchfoot's Jon Foreman volunteered to take it in Mason's hesitation. It was this kind of laid back feel that made the whole thing exciting -- Third Day, Jars Of Clay, and Switchfoot... all performing together at once. It was an encore I never would have expected would be pulled together. And adding each band one by one (one song after the other) was an especially nice touch. But all good things must come to an end, and with all of the bands' members in a row, they took a bow and left the stage for the night.
A tour like Music Builds is a rare thing. With a collection of seasoned artists who have a heart for ministry and their fellow man, The Music Builds Tour is a fine exhibition of professionalism through music with a message with a purpose. The Music Builds Tour is for certain the must-see tour of the year. Don't miss it!
--
John DiBiase
, 9/16/08
The Music Builds Tour 2008 Photo Gallery
click on an image for a bigger size
**vertical images cropped for thumbnails**
Red
Jars Of Clay
Robert Randolph & The Family Band
Switchfoot
Third Day
Third Day and Jars Of Clay
Third Day, Jars Of Clay, and Switchfoot
*all photos by
John DiBiase
and are the property of
Jesusfreakhideout.com