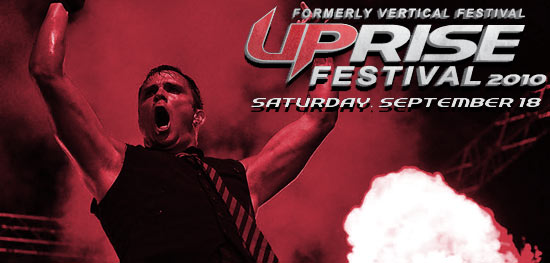 Uprise Festival
9/18/10, Shippensburg Fair Grounds in Shippensburg, PA
Last year, the folks behind Vertical Festival debuted some major changes by renaming the festival to "Uprise" and moving the mid-September event to the beginning of August. The results were a bit mixed, so for 2010, not only did the festival return to a September date, but it upped the ante with a solid roster of artists that offered a heavy-hitting headlining lineup consisting of Newsboys and Skillet.
Apparently the shift back to September and a schedule filled with popular artists was enough to draw the masses. When we arrived with plenty of time to spare to catch Forefront Records' Abandon's set at 11:20AM, we ended up having to sit in a line of traffic at the gate for over an hour. For a one-day festival, that's a pretty impressive feat, but it was a bit frustrating if you weren't figuring that delay into your schedule. After we finally got through the gate, we walked in as INO rock band Decyfer Down was finishing its 12 noon Main Stage performance. Another difference this year was that the festival's side stage was promoted to a secondary stage that featured some significant acts. In addition, there was a "Showcase Stage" which featured local acts and indies if the Main Stage acts weren't your thing any given time during the day.
But this year's setup with the two stages worked well to stagger the music and offer a nice variety. At 12:55, there was a break from rock music with BEC Recordings hip hop artist KJ-52. KJ didn't come alone though. He brought with him a support emcee and a DJ to add a little extra to his show. When I got to his set, he had been doing his ode to the 80s with a series of 80s covers with hip hop spins on them, including Michael Jackson's "Thriller." Then KJ joked that the audience were probably consisting of more 90s babies than 80s ones and followed it up with a 90s medley. After these crowd warm-ups, KJ proceeded to play two of his own tracks, "Swagged Out With Tags Out" and "He Did That" - both from his most recent album, Five-Two Television. At this point, I took some time to catch up with some friends at the fest and walk around the grounds a bit to scope things out.
Uprise Festival has a lot to offer for families to do and participate in. From large inflatable attractions and face painting to "Kiddie Games" in a children's tent, a skate park, an egg drop game, volleyball, a large community ice cream sundae, "One Shot Paintball," "candy scramble," video gaming, karaoke, a graffiti wall, a pie eating contest and more. And with music entertainment going all day, it's unlikely that festivalgoers will run out of things to do.
At 1:50PM, hard rockers Disciple launched their brutal rock set at Main Stage with "The Ballad of St. Augustine" from their brand new album, Horseshoes and Handgrenades, and then continued with fan favorite "Game On." One thing can always be said for Disciple - whether you love heavy music or hate it, these guys are consistent when it comes to putting on intense and passionate rock shows. Their set at Uprise was no exception. "Watch It Burn," also from their new album was next before one of their biggest hits, "The Wait Is Over," followed by "Dear X, You Don't Own Me," from the new record. At this point, vocalist Kevin Young shared from his heart about the power of Jesus setting us free from our sins and tied it into their softer rock offering, "After The World." Now, the downside to two stages is that if you wish to catch two shows that perform at the same time, you need to leave one and travel over to the other, missing chunks of both sets. This was the case when I decided to try to catch some of Abandon Kansas' 2:15 set over at "Stage 2." I had missed the Kansas-based band at Purple Door this year and had wanted to make up for it by finally catching them in the act at Uprise. Unfortunately, this meant missing Disciple. When I arrived at Stage 2, I found a half-shell setup with a stage floor that was level with the audience. The grass hill slowly rose in front of the stage to form a sort-of amphitheater setting. It was a more intimate setup than Main Stage. I had made it just in time to catch the four-piece's last two songs, "Make Believe" and "Close Your Eyes," the latter of which frontman Jeremy Spring informed the audience that they had shot a music video for. They put on a solid pop rock performance and I'm curious to see where they take their sound next on their upcoming 2011 release. After their set concluded, I wandered around the vendors and tents and was able to catch Disciple's closing song "Fight For Love" from a distance.
At 2:50, pop rock worship band Chasen took a Main Stage slot. For some reason, the more accomplished Between The Trees was performing at Stage 2 at 2:55, where it would seem to have made more sense to switch the bands' stage spots. But Chasen fulfilled the need for a worship act for the day and the crowd seemed to receive them pretty well. However, musically speaking, Chasen is ultimately your standard pop rock worship fare and after they started off with "One In A Million" and followed it with "Castaway," both from their INO Records release That Was Then, This Is Now, I was more than ready to experience Between The Trees for the first time over at Stage 2. Between The Trees had recently announced that 2010 would be their final year as a band, so I figured it was now or never to finally see them live. Their stage presence was a nice, subdued piano indie pop feel -- kind of like Seabird, but without the vocal capacity. Between The Trees closed with "White Lines & Red Lights" from their debut album The Story And The Song, leaving me wishing I'd caught a little more than a couple songs of their set and feeling like the band could have had a brighter future if they were staying together.
I made sure to make it back to Main Stage with plenty of time to spare for Fireflight's 3:45 performance. The group was soundchecking when I got there, with vocalist Dawn Michelle waiting patiently backstage. After the extended check, the quintet opened with the rocker "Fire in My Eyes" from their latest release, For Those Who Wait. I found it remarkable that longtime bassist Wendy Drennen was visibly pregnant (about six months) but wearing it well and still rocking out with the rest of the band as if it were any other day. With three albums of work to choose from, Fireflight actually only stuck to their two most recent projects, creating a pretty solid set list. "Stand Up" was next, followed by "Desperate," "You Give Me That Feeling," and "Brand New Day." Dawn then paused to encourage those in attendance who may be going through trials to seek God through the hard times. This lead into "For Those Who Wait," followed by "Core Of My Addiction," and "Hunger." Drummer Phee Shorb served up a solo then that lead into "You Gave Me A Promise." And then after the emotional "What I've Overcome," Dawn played up their final song by asking, "I just have one question for you... 'Are you unbreakable?'" and launched into their closer, which is also probably the band's most popular song to date, "Unbreakable."
Around 4:50, Tooth & Nail rock band The Almost, fronted by former Underoath drummer Aaron Gillespie, took over Main Stage. This was the first time for me getting to see The Almost in action. They put on a good rock show, playing cuts from both records - Southern Weather and Monster Monster, including "Southern Weather, "No I Don't," and their cover of "Free Falling." I didn't stick around for much of their set, however, because I'd hoped to catch our friends Everyday Sunday at 5:05 at Stage 2. However, the group was stuck in South America and couldn't get to the fest. So I decided to walk around the festival again, and could hear The Almost close their set with "Amazing, Because It Is" from a distance. RED followed up The Almost at Main Stage at 5:55, but with House Of Heroes performing at the same time at Stage 2, we opted for the HOH boys.
With a blazing sun in their eyes, House Of Heroes opened their set on the intimate Stage 2, surprisingly, with "So Far Away" from their latest album, Suburba. Although it is a personal favorite from their new record, I wouldn't normally think of it as a set opener, but it served quite well as one. "Code Name: Raven" was next, followed by "God Save Us The Foolish Kings," "If," and "Elevator." HOH vocalist Tim Skipper then took a moment to talk about their current tour with The Almost, Chasen and Between The Trees -- all of whom were also playing at Uprise. They then introduced "Serial Sleepers" from the band's self-titled debut and followed it with "Field Of Daggers," "Lose Control" (complete with a "heavy metal" outro), "Love Is For The Middle Class," and closed with "In The Valley of the Dying Sun." It was a great song selection from the guys, and the smaller stage setup worked well in the band's favor (as opposed to maybe Main Stage at most other fests that put a big distance between the audience and the band). Stage 2 was then officially finished for the day and upon Red's set conclusion at Main Stage, speaker Bob Lenz took some time to offer an encouraging message to the Uprise audience.
Once Lenz was finished, there only remained two more sets for the night. By 7ish, the sun was down and all of the other activities were done for the night. And after a reasonable set change time, last year's headliners, Newsboys, were back again - this time as co-headliners. It's been over a year now since I first saw Newsboys with new vocalist Michael Tait at Uprise last year. And since then, I've seen their set with them another three times, but each time, it's still a bit of an adjustment to process the idea that this is the same band that once had lead singers John James and Peter Furler before. But the new incarnation of Newsboys is still a unique and fun one. And the band is clearly rejuvenated and enjoying the challenge of trying to prove themselves again. Tait strutted out onto the stage singing "Tonight's gonna be a good night, tonight's gonna be a good good night," leading right into "Something Beautiful" and "Wherever We Go" from the band's 2008 album GO. It seemed a little odd that, now with a successful new album under their belts featuring Tait, they were still opening up with some Furler-fronted songs. But from here, they played a few new songs from this year's Born Again, starting with "Way Beyond Myself" and then the hard rocker "Escape," before switching gears to the over-played "Blessed Be Your Name" (they've been playing the Matt Redman tune live for probably about seven years now) and the Newsboys oldie "He Reigns," which, granted, Tait does sound good on. It was then a nice treat to hear Michael start singing "Turn Your Eyes Upon Jesus," a song that Newsboys recorded with John James singing it back on Not Ashamed in 1992. But the currently madly overly-covered worship phenomenon "Mighty To Save" was next, with a series of new tracks following -- "When The Boys Light Up," "Born Again," and "Miracles." Tait then teased the audience with playing some old Newsboys favorites and then broke out "Shine" (which, sadly, especially doesn't really work without John or Peter) and "Breakfast," before Michael introduced the band members (with guitarist Jody Davis tossing in a little "Play That Funky Music"). At the end of the little medley, the guys walked off the stage, but soon returned inevitably for two last songs, "One Shot," and the DC Talk smash hit, "Jesus Freak" -- a track that Newsboys have been playing faithfully since Tait joined (and that they even re-recorded for Born Again). And since he had played earlier in the day, KJ-52 was still at the fest and able to join the band to provide TobyMac's original rap verses, which KJ also provides on the Newsboys' recorded version.
And after one last, lengthy set change, the grand finale of the night was from hard rockers Skillet. I've seen these guys live many a time in the past twelve years (since Creation '98), and to say their live show just keeps getting better and more intense would be a bit of an understatement. With their two most recent albums being runaway hits, it's no surprise that their set is almost entirely comprised of songs from these records. However, it is somewhat of a surprise when a band chooses to open with one of their biggest current hits. So, with proverbial guns ablaze - in this case, it's lots and lots of pyrotechnics - Skillet opened with "Hero," from their newest record, Awake. Like their Creation 2009 show (that was the most recent outdoor festival set I've seen from them), Skillet not only had their hydrolic driven pedestals for their string accompaniments and guitarists to utilize, but they had smoke air jets and flames that shot into the air throughout their set (it's amazing what a little fire can add to a rock show). "Whispers In The Dark," from their 2006 album Comatose followed, with the title track from the same record coming next. Front man John Cooper then began talking about a war going on today - for our souls, and pumped up the audience for "Awake And Alive" (from their album Awake), before stopping again to talk about playing for Uprise festival. He commented that this particular one-day festival offered the single best line-up of bands he'd ever played with. He then started talking about nerds and tied the topic into the fan favorite "Those Nights," which is sort of a sentimental almost-pop/punk highlight. Cooper then broke out a little Flip video camera and shot footage of the audience while singing the songs. The mood shifted to the more serious as John introduced "The Last Night," also a cut from Comatose, and left the stage briefly afterwards for Jen Ledger to offer up a rousing drum solo. Ben Kasica then was given the spotlight for a featured guitar solo, leading it into their next song, for which the band rejoined them, "Savior." It's great to still hear them play at least one song from their 2003 album Collide, considering that the band has quite a few albums to pull songs from, not just their two most recent. After "Savior," John's wife Korie performed a dramatic piano intro for "Lucy," and then gave the fans exactly what they wanted by playing the new fan favorite "Monster." Skillet then exited the stage, but everyone knew they had to return for an encore, and so they did, reopening with "Sometimes" and then giving Jonathan Chu and Tate Olsen the spotlight for a pair of violin and cello solos (respectively). For the closer, a few poles were added to the stage -- ones I recognized from their Creation '09 set, and sure enough, when they launched into "Rebirthing," large spark-emitting pinwheels fired up behind the band as they performed (I also remember Audio Adrenaline using them at Creation 2000). Skillet brought down the house for their festival-closing finale and it was a memorable way to end the event.
Uprise Festival was certainly a highlight of the 2010 festival season and if this year is any indication as to what next year could bring, Uprise 2011 will be one you just won't want to miss!
--
John DiBiase
, 9/30/10
Uprise Fest 2010 Photo Gallery
click on an image for a bigger size
**Uprise images cropped for thumbnails**
KJ-52
Disciple
Abandon Kansas
Fireflight
Chasen
Between The Trees
The Almost
House Of Heroes
Newsboys
Skillet
*all photos by
John DiBiase
and are the property of
Jesusfreakhideout.com