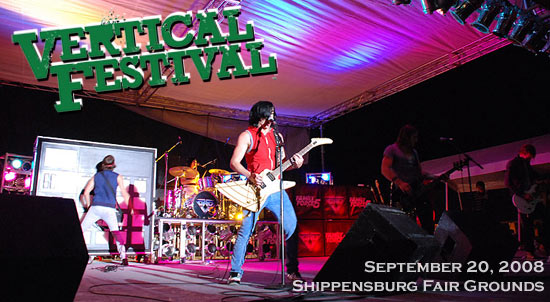 Vertical Festival
9/20/08, Shippensburg Fair Grounds in Shippensburg, PA
Vertical Festival has been rocking the Central Pennsylvania masses for the past couple years, yet this year was only the first time we were able to attend. Vertical Fest is a festival like few we've been to. With an array of activities for people of all ages to join in to, there's plenty more to do than just watch live concerts all day if that isn't enough to get you to attend. One of the biggest surprises I found, actually, was with sponsors like Rita's Italian Ice and Starbucks, there were free coffee and Italian ices given out for a good portion of the day! That's something you seldom find. And while the bigger festivals might charge an arm and a leg for basic refreshments, the Vertical Fest folks offered a nice selection of food and drink items at rather reasonable costs. On top of sustenance, there included karaoke, skateboarding, paintball (for an additional fee), free ice cream sundaes, pie eating contests, a children's tent, and much more.
As usual, our main focus was on the music for the day, and sometime after 12 noon, local Chambersburg, PA pop worship band Ryan Payne Band opened the festival's main stage. While it made sense to put a smaller act on to open, there wasn't much about the RPB that helped them stand out from the sea of like indie artists. Festival goers were still trickling in as the first few acts were playing, and the RPB scored the greatest reception from the early birds when they brought out a cover of Chris Tomlin's wildly popular "How Great Is Our God" to close their set.
The stage setup was a unique one for sure. I'd first seen a similar idea at the Warped Tour this summer, however, it was executed more effectively then. For the Warped Tour, two main stages were set up in sort of a V shape and while one concert was going on one stage, the next one was setting up on the other stage. By the time one set ended, the next one fired up instantaneously without delay. Vertical Fest tried a similar idea, but used one big stage as two separate ones. The stage was split down the middle when it came to gear setup, and while one band performed on one side of the stage, the next artist was getting things set up on the other side. But in between the sets, many times the artist needed to soundcheck, and then Tyree Sterling from RockYourMic.com would often emcee between sets to pump up the crowd or fill up dead time (and the usual festival "free stuff" was tossed out for the fans to gobble up). The process worked for some of the time, and although two bands would not be able to make the festival at all (The Wedding were victims of Hurrican Ike and StorySide:B's bus broke down), the festival would end up running overtime by the end of the night.
Word Records' new act Me In Motion were up next. We had seen them the night before in part on The Unbreakable Tour, so it was nice to be able to catch all of their set this time. The Columbus, OH pop rock trio put on a nice little set, and probably would have served better as the festival openers all together. Regardless, they were a nice addition to the early afternoon lineup.
I must admit I was greatly looking forward to finally seeing Seabird live. They performed Purple Door this year but on the opening night that we didn't attend, so this was really our first opportunity. Me In Motion had been given a bit of a set extension with the loss of The Wedding and StorySide:B, so Seabird benefited from this as well, going on to perform what would end up being a hearty nine song set. They opened with "Black and Blue," followed by "Apparitions." Keyboardist and vocalist Aaron Morgan gave a nice introduction to "Never Alone" and then stopped to talk about their upcoming trek to New York City later that day to promote their new video for "Rescue" on MTVU. Morgan kept dealing with mic stand issues the entire set, and while he fought with it after the song "Maggie Mahoney," bassist Chris Kubik let the audience ask any question they wished. Afterwards, the band proceeded with "Stronger," "Sometimes," "Let Me Go On," and then closed their impressive piano rock set with "Cotton Mouth (Jargon)."
Although it looked like Run Kid Run's set was ready to go, things strangely felt as if there was some time deliberately being spent until RKR would perform. Whether it was to make sure the band was going on at 2:30 or what, I'm not sure, but emcee Tyree Sterling stepped up to perform a few hip hop numbers while we waited for the acts to resume. While Tyree wasn't bad at what he does, he chose to rap to tracks on his iPod that merely sounded like KJ-52 tracks and what ended up being a track for the classic, "Jesus Freak." When he turned the beloved dc Talk song into a sort of "Jesus Says" version of the game Simon Says (?!) with a female assistant on stage with him, we had to just leave the area. We walked around merch for a bit, grabbed some refreshments, and when we returned, Ryan Payne Band was filling in for an acoustic set. It really would have made much more sense to either move the main acts up to play earlier or just shut down the stage before Run Kid Run would play. There were plenty of other attractions, we didn't need these fill-in acts.
Finally, Run Kid Run stepped up to play their pop punk set, opening with "The Emergency" from their new record, Love At The Core. RKR put on a pretty decent show, but their lack of stage presence is probably the biggest drawback to their live show -- that and not too many of their songs stand out from each other. They proceeded with "We've Only Just Begun," then "Rescue Me," "Sing To Me," "Captives Come Home," and the catchy single, "One In A Million." After they finished their set, things switched over to the left side for another pop punk rock set with Nevertheless, who were also sporting some new tunes. Having also just seen them live the night before, NTL played an almost identical set, albeit abbreviated, opening with "Cross My Heart" and "Longshot" from their new album, In The Making..., breaking for "Losing Innocence" from their debut, and then returning to new stuff with "It's True" and their current single, "Sleeping In." For the latter song, vocalist Joshua Pearson paused to share again about insecurities and the web community they built surrounding the theme of the song at www.tiredofsleepingin.com, before then playing the song. The band delivered another great set, sadly only six songs long, and closed with the fan favorite, "The Real."
We switched back over to the right side of the stage (from the audience's perspective, that is) for Tooth & Nail Records homeschoolers Children 18:3 with their wild punk rock act. Their captivating live performance seized the attention of many in attendance, so it was quite the surprise that the festival ended up cutting their set abruptly short. They opened faithfully with "All My Balloons," followed by "LCM" and "You Know We're All So Fond of Dying" before changing up their set a bit to include "Valentine" and "Mock The Music" before being told they were done. With how warm a reception they were being given, it just made no sense for them to not even get a chance to close their set properly. But from insane back bends from bassist Lee Marie to the frantic antics between her and her vocalist/guitarist brother David, the sibling trio surely rocked the Vertical Fest stage with a standout show.
On the other side of the stage, Columbus, Ohio rapper John Reuben and his band of two stepped up. There had been a time slot confusion that originally had John scheduled for 6:55 when really his show was intended for 3:55. However, it was long after 4pm when Reuben finally got the chance to do his thing. In the surprisingly blazing hot mid-September sun, John opened with "Universal" from his most recent studio album, Word Of Mouth, grabbing the attention of the Vertical Festers with his exaggerated stage presence and infectious enthusiasm. He threw out an old fan favorite to the crowd next with "Do Not" before leading into the fun and catchy "Make Money Money." And before diving into the more pop oriented "Nuisance," John guzzled an entire 20oz bottle of water and tossed it aside with ease before getting back to his rhymes. "Run The Night" was next and with a set time extension, he was able to continue on with "Word Of Mouth," and "Trying Too Hard." With less room to move about the stage, Reuben kept bumping into the mic stand as he did his usual routine, often knocking it to the floor. At this point in the show, he paused and in a heartfelt but joking manner expressed his disappointment over the clumsiness of this particular set, admitting to feeling "miserable," and encouraged the audience to help him out on the remaining songs in his set. And like the true trooper he is, John took his show out on a high note with "Good Evening" and the silly but always reliable, "Doin'." Whether or not the show went according to plan, John still turned in a great performance.
Shortly after Tyree the emcee did his thing again, Tooth & Nail Records rock band The Fold came out to the ridiculously fun sound of "Medicine" from their most recent album, Secrets Keep You Sick. Following a similar act in style as Run Kid Run, The Fold has a much more engaging live performance, and the foursome proceeded to put on another great afternoon show. After "Medicine," the guys launched into "Down In Doubt And Living Without," "New City," "Faster Still," "Catastrophe!" and closed with "Gravity" from their debut, This Too Shall Pass - which they impressively opened with their drummer, Mike Emmons, performing the intro with using only one arm.
American Idol personality Chris Sligh served as sort of dining entertainment. With the fest really lagging behind schedule now, Sligh performed probably almost an hour later than planned, and to a thinning crowd who most likely chose to seek out some dinner during his set. Sligh was probably an odd choice to insert into the lineup. With mostly rock bands and high energy others like Reuben's hip hop show, Chris' set somewhat slows things down. The singer brings with him incredible pipes as a vocalist, but sadly his backup band were entirely uninteresting. They didn't add to Sligh's performance any more than just filling in a live band sound, and this certainly hurt his overall show. During his lengthy nine-song set, He performed songs like "Somewhere," which he tacked on a cover of Bon Jovi's "Living On A Prayer" to at the end, "Something Beautiful," "Loaded Gun," a cover of The Beatles' "Eleanor Rigby," "Cry Tonight," and "Arise." To close his show, Sligh shared about his American Idol success and choosing to go into the Christian industry instead of the mainstream so he could maintain a message in his music, and talked about shedding pride before performing his current single, "Empty Me."
Following Sligh, BEC Recording's The Glorious Unseen presented their usual modern worship set. The band is devoted entirely to their craft and not to any kind of performance or showmanship, so it ends up being a humble time of worship for ready listeners. Sometime after their set and more announcements, speaker Justin Lookadoo stepped forward to address the Vertical Fest audience about what it is to live for Christ and how to go about choosing our activities and even music and movies properly. Lookadoo repeatedly drove home the idea of asking "Is it Holy?" before doing or saying anything, and his impactful words were a relevant and poignant message for the Vertical Fest audience of all ages.
During Lookadoo's message, the sun sank into the distance and the heat of the day immediately turned into the frigid Fall air that Pennsylvania is known for. The contrast between the temperatures were not only stark but extremely sudden in the shift from hot to cold, and the longing for having worn something even warmer than a long sleeve blazer became strong. But after another break, it was probably around 8pm (they were slated to go on at 6:55pm) when Flicker Records rock band Fireflight took the stage. At this point, the entire stage was opened up to allow the three remaining acts to utilize the entire stage space. This made sense for the evening performers and it made their shows certainly feel bigger. Having seen the band perform their Fall Tour just the night before with a thirteen-song set, it was a little surprising that they got to play a generous ten songs this night. All dressed in black and soaking in dim, colored lighta, they opened once again with "The Hunger," "Serenity," "Stand Up," "So Help Me God," and "Brand New Day." Vocalist (and chronic smiler) Dawn Richardson prefaced "Forever" again with a word from the scriptures about ministering to the lost and the story of the shepherd who left the ninety nine sheep to find only one who wandered off. From there, they launched into their previous hit single, "You Decide," followed by "You Gave Me A Promise," and "Attitude" before throwing their fists up and taking the show out with their anthemic hit, "Unbreakable."
Essential Records rock act Red was next. We had only a week prior seen a brief set from them on The Music Builds Tour as an opener, so seeing them get a headlining slot was a much different feel than their other performance. Their show is intense and dramatic, and after a sort of orchestral opening, Red broke into "Wasting Time," with a flurry of energy on stage. For this particular show, guitarist Jasen Rauch was temporarily absent, so the band's producer for their albums, Rob Graves, was filling in for him. Next, the guys performed "Hide" and "Lost" before front man Mike Barnes announced that the band has finished their sophomore album and are eyeing a 2009 release. "Already Over," "Pieces," and "Let Go" followed, and during "Break Me Down," the band was given the signal to end their set, being out of time. Luckily, the guys were given enough time to perform their hit single "Breathe Into Me" to close their show. Red ended up being a fine opener for Vertical Festival's final, main event...
A soundcheck and set change was in order, as we waited in the icy air for Family Force 5's closing performance. It struck 10pm as we waited... the time that the Festival was supposed to have ended. But finally, Family Force 5 opened their long awaited set with a first-time-ever performance of the title track from their new album, Dance Or Die. It's not your typical Family Force show opening, feeling a bit more subdued than usual, but like most of their performances, it works well for things to build slowly. Next, the guys jumped into the familiar and funky "Drama Queen" and then the rocker, "Replace Me." For many of the new songs, keyboardist Nadaddy could be found kneeling before what they dubbed the "Family Force 5000," a gigantic sound machine which lit up and made fantastic synth sounds as Nathan beat on it. A rousing performance of "D-I-E-4-Y-O-U" was next, followed by "Fever," and fans went nuts by the time they broke into the more classic "Kountry Gentleman." The silly party anthem "Put Your Hands Up" followed, with the first-time-ever performance of "Wake The Dead" quickly behind it. Sadly, after the infectious sounds of "Radiator," the band closed their ten-song set with their hit and fan favorite, "Love Addict," with front man Solomon Olds donning his trademark Hulk gloves (now painted black). To our disappointment, the band had more to their set planned for the night, but with time restraints, things had to be cut off. Still, they were the perfect closer to a pretty strong day of live shows.
Our first experience of Vertical Fest was definitely an interesting one. The setup is rather casual with a nice emphasis on ministry that never seems forced or too corporate. It may seem easy to get lost in some of the larger festivals, but Vertical Festival offers a nice personal touch. It's still a young festival, so there's time to get some of the scheduling kinks worked out, so hopefully next year will run a little smoother. While it may have had its drawbacks at times, at the end of the day, Vertical Festival was still a great time and a nice mix of musical offerings with a message.
--
John DiBiase
, 10/1/08
Vertical Fest 2008 Saturday Photo Gallery
click on an image for a bigger size
**vertical images cropped for thumbnails**
Ryan Payne Band
Me In Motion
Seabird
Tyree Sterling
Run Kid Run
Nevertheless
John Reuben
The Fold
Chris Sligh
The Glorious Unseen
Justin Lookadoo
Fireflight
Red
Family Force 5
*all photos by
John DiBiase
and are the property of
Jesusfreakhideout.com