Sometimes when you chase a dream, the finish line comes quickly and easily. But more often than not, reaching the end requires a lot of time and work. Kentucky musician Michael Nichols' dream was to release an album of his own original songs after being involved in a number of other collaborative projects. From writing the core of the songs on his own to piecing together an actual band to fully conceptualize the songs, Nichols has been hard at work, and the finished product is here...about nine years later. Under the name
My Heart Lies
, Nichols and a few friends are finally ready to present
Love and Fear
. As the songs on this album were all conceived by Nichols as a solo artist, you might not expect them to have morphed into what they sound like now, which is a mix of alternative with a hint of light pop punk (think Mae meets Run Kid Run). The band crafts infectious melodies using guitars, pianos, and the occasional violin, making for an ethereal sound that we just don't get a lot of these days. I love the strings in the "Cities in the Night" prelude, and the twinkling piano in "Regrets and Repair" are just pretty. There are also a few tracks that dive a little deeper into the pop punk and rock spectrum. "Curbside Serenade," which directly follows the prelude (and smartly carries over the melody), gives us our first taste of a New Found Glory-esque pop punk early on. A few tracks later, the opening guitar riff of "Heart Attack" reminds me of Anberlin, with a much grittier sound, but then the violin comes in during the chorus, and of course Yellowcard comes to mind. My Heart Lies dabbles in a lot of different sounds and subgenres with this album, and they really seem to know what they're doing (other than the decision to scream a little bit in "Crash" - it's an odd choice that doesn't really seem to fit the song).
Love and Fear
is definitely enjoyable to listen to, but the issue that I run into is that it's quite long: fifteen tracks totaling almost an hour's worth of music. That kind of length certainly isn't always a downfall in and of itself, but what detracts from making
Love and Fear
a great album is that it feels like a bunch of singles packed into one package. Each individual song would sound great on a playlist, but one after the other just feels too long. If a few songs had been left off, it would've been much more enjoyable. That being said, My Heart Lies is off to a good start and ends up being a band to keep your eye on. - Review date: 5/17/18, written by
Scott Fryberger
of Jesusfreakhideout.com

Record Label:
None

Album length:
15 track: 54 minutes, 51 seconds

Street Date:
June 28, 2018

Buy It:
iTunes

Buy It:
AmazonMP3
Cities in the Night (Prelude) (1:22)
Curbside Serenade (3:19)
Find You in the Light (3:43)
Inform Me (3:22)
Crash (2:59)
Heart Attack (3:00)
Dreams (3:40)
Semiconsciousness (Interlude) (1:30)
Closure (If You're Hearing This) (5:41)
Running (4:25)
You That Guides Me (3:39)
Change Your Mind (3:24)
Pandora (3:47)
Regrets and Repair (4:07)
Love and Fear (7:02)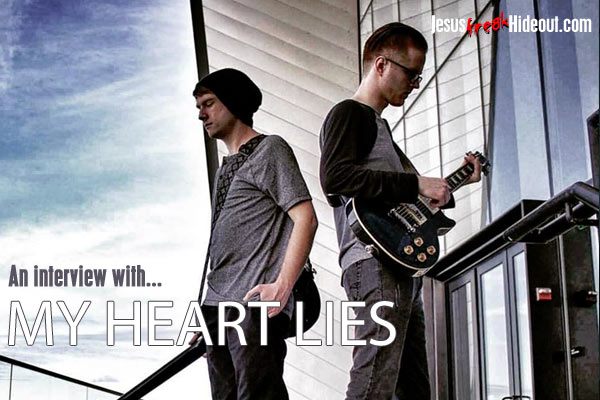 Jesus Freak Hideout (Scott Fryberger): My Heart Lies is a rather musically diverse band. What kind of bands influence the way you write the songs?
Michael Nichols: In short, too many! Yellowcard is a big one, but also Skillet, Red, Red Jumpsuit Apparatus, and even post-rock like This Will Destroy You and Explosions in the Sky. We love the drive, but we love the ambience, too.
JFH (Scott): Did you anticipate releasing a fifteen-track album when you set out to put Love and Fear together?
Michael: Definitely not. At least three of the songs weren't a part the album right before recording time began. "Regrets and Repair" barely made it in the door, but it felt right. The album is so much a collection of stories from a larger story arc, and that one just completed the arc. The instrumentals were also a huge part of the completion. It didn't need more words, but it just didn't feel complete until we added those.
JFH (Scott): I really like the prelude and interlude tracks, but I'm curious as to why there's no concluding instrumental to complete the set.
Michael: Well, part of that has to do with why we added them in the first place. Part of it was because the title track, "Love and Fear," has so much to it instrumentally, making it a longer song. It was partly to balance that — in a way, we considered "Love and Fear" its own outro. So when we made "Cities in the Night," the title was a throw forward to the first line of "Love and Fear," and there is even some overlap in the violin lines. It was a lot of fun. "Semiconsciousness" was Jared's brainchild. It was a mood-shifting track, drifting off from the heaviness of "Dreams" into "Closure."
JFH (Scott): "Crash" is an inriguing song, as it features a little bit of screaming, which is foreign to the rest of the album. Where did that idea come from?
Michael: I'm one of those extroverts that's really shy sometimes and is especially quiet when he's hurt. When I wrote "Crash," I had just lost one of my best friends — [by that] I mean the friendship ended. I went into depression for almost two years, and I repressed a lot until I started writing songs about it. Putting the scream into it felt appropriate not just for the lyrics' sake, but because the song was a moment of trying to break my heart's silence.
JFH (Scott): Your bio on your website and Facebook lists My Heart Lies as a two-man band. Did you hire studio musicians to fill out the recorded versions, or do you have talented friends that helped?
Michael: We were massively blessed to have known several amazing musicians personally, any of which we would gladly add to our permanent lineup. Josh Jessen is very involved in the jazz/hip-hop scene in Cincinnati, Luc was heading to Belmont for his master's degree, and Alicyn is in college as a creative writing major. Then there's Josh Propst on cello, Martha Christian who is a worship pastor, Bethany Pedigo, and all of our amazing gang vocalists with families and jobs. God has blessed us, and we're just happy they gave us a moment of their time and their awesome friendship.
JFH (Scott): Have you been involved with any other bands in the past?
Michael: Most recently, I was involved with a worship band called One Renown, who are still making some awesome jams. I've done a few projects before, too, but nothing really ever came of them. I think the difference between then and now is that I believe in myself and that God has me doing this for a purpose. I'm working on a little bit of my own thing, playing for a church family I adore, and Jared is doing the same.
JFH (Scott): Once the album releases, do you plan on touring to promote it, and if so, do you already have the tour planned out?
Michael: As of right now, we don't have tour dates, but we are putting together plans to make that happen soon, and we're looking at having some really awesome friends join us for that, potentially full-time. Here's hoping!
JFH (Scott): If there's one word to describe what you want Love and Fear to say to listeners, what would it be and why?
Michael: One word? Hmm… "Brave." Be brave. The stories told are all of moments when I've not been sure of myself or people in my life. The great thing about bravery is that it doesn't mean you aren't afraid. It just means you love something stronger than you fear anything else. 1 John 4:18 says that perfect love casts out fear. The more we believe we are loved by God, the more love we can give to others, and the more bravery can conquer our fears and anxieties.
JFH (Scott): Is there anything else you'd like to add?
Michael: The only thing left to say is just that we're not out to be rock stars. I mean, if that's what happens, great! And we're going to work hard to make this the best time we can and reach as many people as we can. At the end of the day, though, it's God's plan, not ours. This is about telling you that you're loved. If that happens, then we've done what we set out to do.