WORLD VISION PRESENTS THE CALLED TO LOVE TOUR FEATURING DOWNHERE, AARON SHUST, JASON GRAY AND LAUNCHES IN OCTOBER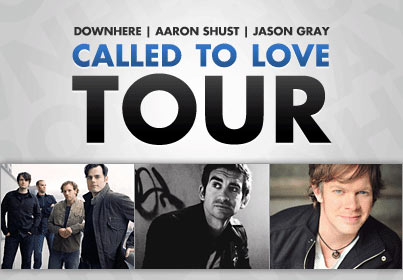 NEWS SOURCE: Bozeman Media
August 9, 2011
Nashville, TN (August 9, 2011) ---- Centricity Music has announced an exciting new tour for this fall that features three of their artists…. Downhere, Aaron Shust and Jason Gray. World Vision presents The Called To Love Tour that launches October 1st and runs through November 13th. All three artists are releasing new projects this fall; Aaron Shust This Is What We Believe (8/23), Downhere, On The Altar Of Love (8/23), and Jason Gray A Way To See In The Dark (9/13). The teaming of these popular and high-profile artists will bring audiences a meaningful and fun evening of worship and music.
"This will be my 6th tour with Downhere, a group of guys that I not only respect and love, but also have lived a lot of life with them on the road," says Jason Gray. "I'm a fan. I love their new record and am grateful that I get to be part of sharing it with their audience. I've gotten to know Aaron over the past year, too - a humble man of God who pursues excellence in his passion to honor God. I'm excited to get to know him better and am grateful to be a part of this exciting chapter of his ministry. I'm honored to be in such great company and it will be fun for us to all share in celebrating the release of our new records. That we get to serve Jesus together while also partnering with World Vision is more than I should hope for, but am grateful. The only problem is that sharing the stage with such excellent people will mean I'll have to work harder. Thanks a lot guys - why do you have to be so awesome?!"
"Any time we get to hit the road with our music, we consider it a privilege and a joy," adds Marc Martel, leader singer, Downhere. "When we get to go out with good friends like Jason Gray and Aaron Shust, it is even more rewarding, giving the fans a unified, well-rounded experience with performers who not only share the same bus, but also the same heart and vision."
"I couldn't agree more with Marc and Jason; chemistry is so important when doing Kingdom work," says Aaron Shust. "Even though what we do is described as 'playing', an artist's work can be emotionally draining, so having like-minded brothers to walk with on the journey and pour back into your life is a blessing. I'm so grateful to have those relationships in my band and on this tour with Jason Gray and Downhere."
For more information about the tour please visit www.centricitymusic.com and for the individual artists; www.downhere.com, www.aaronshust.com and www.jasongraymusic.com.
About World Vision
World Vision is a Christian humanitarian organization dedicated to working with children, families and their communities worldwide to reach their full potential by tackling the causes of poverty and injustice. World Vision serves all people, regardless of religion, race, ethnicity, or gender. For more information, visit www.worldvision.org.
####
Called To Love Tour Dates (all dates are subject to change)
10/01/11 Abilene, TX
10/02/11 Jourdaton, TX
10/05/11 Iowa Falls, IA
10/06/11 Pierre, SD
10/07/11 Dickinson, ND
10/08/11 Minot, ND
10/09/11 North Mankato, MN
10/12/11 Neenah, WI
10/13/11 Benton, KY
10/14/11 Ottumwa, IA
10/15/11 Wausau, WI
11/04/11 Lancaster, PA
11/05/11 Lewisburg, PA
11/06/11 Kentwood, MI
11/11/11 North Syracuse, NY
11/12/11 Woodbridge, VA
11/13/11 Wilmington, NC
For more info on Downhere, visit the JFH Artists Database.
For more info on Aaron Shust, visit the JFH Artists Database.
For more info on Jason Gray, visit the JFH Artists Database.