MATT HAMMITT'S SON, BOWEN, TURNS ONE TODAY,
INSPIRES SANCTUS REAL LEAD SINGER'S FIRST SOLO ALBUM,
EVERY FALLING TEAR, RELEASING NEXT WEEK AMIDST ACCLAIM
Jason Ingram Produces, Songs Co-Written with Ingram, Joy Williams, Leeland Mooring,
Pete Prevost, Audrey Assad, Bernie Herms
Album Proceeds Benefit Whole Hearts Foundation
NEWS SOURCE: Hoganson Media
September 9, 2011
Multiple GRAMMY-nominated, Dove Award winning Sanctus Real lead vocalist Matt Hammitt celebrates his son Bowen's first birthday today as his first solo album, Every Falling Tear, releases on Sparrow Records Tuesday, Sept. 13, which is coincidentally the year anniversary of Bowen's first open heart surgery. Bowen, "small victorious one," was born with a severe congenital heart defect, Hypoplastic Left Heart Syndrome, and has now gone through two heart surgeries, an infection and other complications since being born.
After his first surgery, five-day-old Bowen Hammitt's heart stopped beating shortly after midnight Sept. 14, 2010. Bowen's body seemed to resist the open-heart surgery that he endured the previous day. Forty minutes after nurse Sarah Bealman at C.S. Mott Children's Hospital in Ann Arbor, MI, started performing resuscitation on Bowen's exposed heart, a faint pulse and improved vital signs restored hope for Matt and his wife, Sarah.
The couple first learned of Bowen's condition less than one month after Matt's band, Sanctus Real, released their album, Pieces of A Real Heart, which features songs like "Dear Heart," "Keep My Heart Alive," and "The Redeemer" with the chorus lyric, "'cause you can make a weak heart stay alive forever." All these songs were written before they knew of Bowen's condition.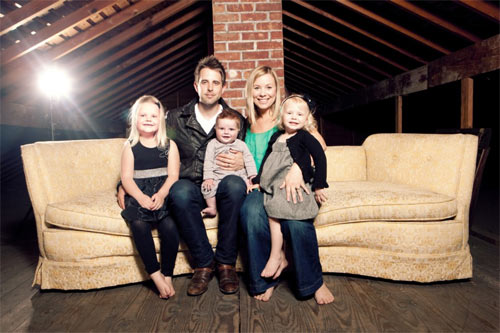 Pictured (l-r) are: Emmy, Matt, Bowen, Sarah and Claire Hammitt.
Organically sparked by the rich joy and pain of life over the last year that strengthened Matt Hammitt's faith and solidified his resolve to lead his family well, these new songs are his most deeply personal to date. Born out of the heart of a father, Hammitt's main impetus for writing the songs on Every Falling Tear was to play them at Bowen's bedside in the hospital, with the hope that they would be a source of comfort for his family, as well as a reminder of God's faithfulness in the midst of their uncertainty.
Encouraged by his Sanctus Real band mates to release these songs, Hammitt enlisted Jason Ingram to produce, as well as to co-write six of the songs on Every Falling Tear. Hammitt also co-wrote "Let Go" with Joy Williams (The Civil Wars), "This Is Grace" with Leeland Mooring and Ingram, and "All of Me" with Bernie Herms. Sanctus Real band mate Pete Prevost co-wrote "Holding You" with Hammitt and Ingram. The song "Without You" was co-written with Audrey Assad, who also wrote and sings "Little Light" on the album.
Here is what the critics are saying about the resulting album:
"Every Falling Tear is a lyrical masterpiece, and by far some of Matt Hammitt's strongest songwriting to date...This is hands down one of the top 10 Christian albums of the year and one longtime fans of the band and beyond will NOT want to miss." – NewReleaseTuesday.com (5-star review)

"Every Falling Tear works from a specific valley to arrive at a mountain of hope we should all aspire to scale, regardless of any earthly circumstance…It's a deep yet undeniably uplifting listen…compelling music and a great cause." – Crosswalk.com

"A cathartic songwriting release after Hammitt's son Bowen was diagnosed with a heart defect. The range of emotions are conveyed ever so appropriately throughout tender acoustics and piano ballads, and the vulnerable storytelling will inspire those in similar situations." – ChristianityToday.com

"Every Falling Tear will help listeners express the deep emotions in their own hearts, as each song more than adequately paints accurate pictures of pain and suffering while remaining in hope and in relationship to a perfectly loving Father." – Foursquare Leader

"Although Every Falling Tear was birthed out of adverse circumstances, a recurring theme of hope is the thread that is woven throughout each song on the album…the beauty of Every Falling Tear is the quality of the songwriting." – Breathecast.com
A portion of the proceeds from the sale of Every Falling Tear benefits the Whole Hearts Foundation, a new non-profit Matt and Sarah Hammitt set up to help families going through similar challenges as themselves; providing assistance for families of children affected by congenital heart defects.
"More than 40,000 babies a year in the United States alone are born with congenital heart defects," says Hammitt. "More kids die from heart defects than all cancers combined. The Whole Hearts Foundation seeks to be a resource for families who are suffering in much the same way as my family."
Music fans have already donated to the foundation through buying songs from Every Falling Tear that were released, one track per month beginning in May, through digital retailers such as iTunes and Amazon.com. The first track released, "All of Me," was initially heard on ABC World News with Diane Sawyer http://www.youtube.com/watch?v=WoeGKOXeO-s. Bowen heard his dad sing this song for the first time in concert at a sold out Sanctus Real event last month at Bowling Green State University's new Stroh Center. "He has undergone two life saving surgeries and he's not even a year old yet, but he got to kick up his heels a bit this past weekend as he watched his rock star dad on stage for the very first time!" reported WTVG-TV's (ABC) Lissa Guyton in a three-part feature story following the event. Matt will continue to sing the song "All of Me" with Sanctus Real on the major market tour this fall with Casting Crowns.
Matt and Sarah started the blog, www.bowensheart.com, to chronicle their journey of highs and lows since finding out about Bowen's condition. Recently nominated for a 2011 Parents Best Special Needs Blog, the website gathered more than 220,000 people the day of Bowen's first surgery. The site has been viewed millions of times since as people connect with the Hammitt's courageous story.
For all the latest information on Bowen and Every Falling Tear, go to www.bowensheart.com. For the latest Sanctus Real news and tour dates, go to www.sanctusreal.com, www.myspace.com/sanctusreal, and www.emicmg.com.
# # #
For more info on Matt Hammitt, visit the JFH Artists Database.