ABANDON KANSAS PREMIERES NEW MUSIC VIDEO FOR "LIKE IT OR NOT"
FAN REMIX CONTEST UNLEASHED

JEREMY SPRING EMBARKS ON THE LIVING ROOM TOUR III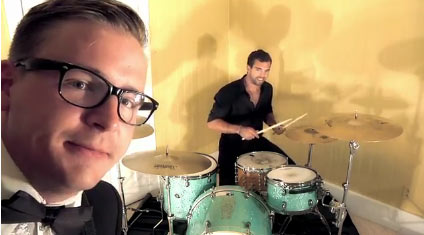 NEWS SOURCE: Independent Music Media
October 5, 2011
Abandon Kansas release a new video for the song "Like It or Not" from their latest effort Ad Astra Per Aspera produced by Mark Lee Townsend (Deas Vail, House of Heroes) out now on Gotee Records. See the video here: abandonkansaslovesyou.com
Abandon Kansas & Gotee records are proud to announce the "Like It Or Not" remix contest! This is your chance to have your remix appear on an EP featuring remixes of each of the three singles from Ad Astra Per Aspera. The EP will be released as a free download by Gotee Records this fall. Go to http://bit.ly/oExjtB for more details.
Singer Jeremy Spring once again will embark on a very intimate tour, where he will be playing living rooms across America, literally on a solo acoustic run deemed The Living Room Tour III. "This is the third year I've done an unplugged tour in fan's living rooms, except this year I added another leg to include the west coast. No sound system, no ticket sales, no awkward local opening bands; it's just me and an acoustic guitar sharing songs and stories from all of AK's releases. Our fan base has been incredibly generous about opening up their homes, welcoming strangers in for the show, but there's no doubt we are all friends by the end of the night. It's not like a show at all, and there is a real sense of community and lots of sing a longs! The host's think I'm joking, but I mostly show up for the snacks and coffee each night anyway. Having added so many extra cities this year I hope a lot of AK's friends and fans can make it out for this special tour"
– Says Jeremy
For show specific information visit www.abandonkansaslovesyou.com or http://jeremyspring.tumblr.com/
The Living Room Tour III
10/28 Wichita, KS
10/29 Garden City, KS
10/30 Denver, CO
10/31 Castle Rock, CO
11/2 Ogden, UT
11/3 Boise, ID
11/4 Nampa, ID
11/5 Centralia, WA
11/6 Seattle, WA
11/7 Portland, OR
11/8 Newberg, OR
11/9 Salem, OR
11/10 Grants Pass, OR
11/11 Sacramento, CA
11/12 Santa Rosa, CA
11/13 San Jose, CA
11/14 Fresno, CA
11/15 San Luis Obispo, CA
11/16 Anaheim, CA
11/17 Azusa Pacific, CA
11/18 Barstow, CA
11/19 Las Vegas, NV
11/20 Phoenix, AZ
11/21 Albuquerque, NM

SECOND LEG
11/27 Oklahoma City, OK
11/28 Arlington, TX
11/29 Houston, TX
11/30 Austin, TX
12/1 Irving, TX
12/2 Denton, TX
12/3 Tulsa, OK
12/4 Springfield, MO
12/5 St. Louis, MO
12/6 Indianapolis, IN
12/7 Cincinnati, OH
12/8 Columbus, OH
12/9 Springboro, OH
12/10 Buffalo, NY
12/11 Detroit, MI
12/12 Fort Wayne, IN
12/13 Chicago, IL
12/14 Cedar Falls, IA
12/15 Minneapolis, MN
12/16 Minneapolis, MN
12/17 Sioux Falls, SD
12/18 Omaha, NE
12/19 Kansas City, MO
12/20 Raymore, MO
###
For more info on Abandon Kansas visit the JFH Artists Database.