VEGGIETALES®: THE LEAGUE OF INCREDIBLE VEGETABLES
DVD IN STORES SATURDAY!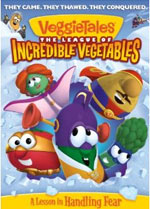 NEWS SOURCE: Hoganson Media
October 12, 2012
Available in Christian stores Saturday, October 13 and everywhere Tuesday, October 16, VeggieTales: The League of Incredible Vegetables is the fourth title in a series of DVD releases that stars the popular "LarryBoy" character while introducing four new superheroes played by beloved VeggieTales characters Bob the Tomato, Petunia Rhubarb, Junior Asparagus and Mr. Lunt, all with hilarious superhero abilities!
Based on Psalm 56:3 (ESV) which says, "When I am afraid, I will put my trust in You," this all-new episode helps teach a lifelong lesson in handling fear, one of the most requested subject topics by VeggieTales fans and families, and features a brand-new League theme song and music video by GRAMMY-nominated and Dove Award-winning group, Newsboys!
Reviewers are Raving ==>
Aboutthechildrensdepartment.com exclaims, "Big Idea has absolutely 'hit it out of the park,' with The League of Incredible Vegetables . . . children will not only love the story, but they will 'get it', too! This powerful message about being able to defeat fear by trusting in God when we are afraid is one children - and adults - need to hear."
Examiner.com and BuddyHollywood.com say, "Since its inception, Big Idea has set a high standard in quality animation, story-telling and all around entertainment while teaching important lessons…With a super blend of hilarious Veggie humor, pop culture references and lessons on facing fears, VeggieTales: The League of Incredible Vegetables is a video that Veggie-fans of all ages will enjoy."
JesusFreakHideout.com notes, "Finally, parents won't have to worry about rough content for their kids who just want a cool superhero to love or look up to…After all these years, the VeggieTales team is still producing great entertainment and The League of Incredible Vegetables is easily one of their best yet."
NewReleaseTuesday.com says, "The League of Incredible of Vegetables is faith-based as always, and has a great message of combating your fears with the Word of God. Add to that the fascination of the unconquerable League of Incredible Vegetables and you have another fantastic film from VeggieTales! Who knows what they will come up with next? Hopefully a sequel to this film will be in the works soon!"
Suite101.com adds, "We all feel afraid sometimes, but the Veggies show us that fear doesn't have to take us down."
Jaci Velazquez, Dove Award-winning, Grammy-nominated Pop & Latin Superstar and co-host of Salem Radio Network's national "Family-Friendly Mornings with Doug & Jaci Velasquez" notes, "My kids LOVE this movie!!! We watch it 10 times a day!"
ON THE RADIO ==>
VEGGIETALES CO-CREATOR MIKE NAWROCKI AND VOICE OF "LARRYBOY" TEAMS UP WITH
GRAMMY-NOMINATED AND DOVE-AWARD-WINNING GROUP, NEWSBOYS!
Next week, VeggieTales Co-creator and voice of "LarryBoy," Mike Nawrocki, and Newsboys Front man Michael Tait and Drummer Duncan Phillips, will team up for a national radio tour in support of The League of Incredible Vegetables. Nawrocki, Tait and Phillips will discuss the brand-new new DVD title and the Newsboys' involvement as the first humans in history to appear in an animated VeggieTales video.
Fans will have the opportunity to hear about the new episode and the music video with the Newsboys on numerous national radio networks and top market stations including The Rick & Bubba Show, American Family Radio, Salem Broadcasting's The FISH, Family Life Network, IRN/USA Radio Network, The Moody Broadcasting Network and many more. There will also be a special radio feature to air later on the nationally broadcast radio show, Keep the Faith.
Why We Do What We Do…
"League" Special Guest Appearance this Saturday! ==>
Big Idea Entertainment had a special opportunity to work with Kristina Barrett, a little girl stricken with a life-threatening illness, whose wish to be the voice of a VeggieTales character, was granted in conjunction with release of The League of Incredible Vegetables. Kristina visited Big Idea's headquarters last year in Franklin, TN with her family to meet VeggieTales Co-creator Mike Nawrocki and staff and to voice a character (girl pea) for the all-new multi-superhero DVD! Kristina will attend the VeggieTales movie premiere to celebrate the release of this brand-new episode at Kingwood Bible Church in Kingwood, TX (Houston) on Saturday, October 13 and to be part of the Kristina Barrett Benefit to raise funds to help with her existing medical expenses from 12:00 pm - 3:00 pm CDT!
Watch "The League of Incredible Vegetables" Music Video Featuring the Newsboys!

To view the "League" music video, please click on the image or here
THE LEAGUE OF INCREDIBLE VEGETABLES PROMOTED AS PART OF THE VEGGIETALES LIVE! GOD MADE YOU SPECIAL TOUR ==>
This fall, as part of the VeggieTales Live! God Made You Special Tour, audiences nationwide will have the opportunity to watch the League movie trailer and the Newsboys music video in support of the new DVD. Information on the tour, including the latest itinerary, may be found at http://veggietales.com/live/.