SHANE & SHANE COLLABORATES WITH JOHN PIPER'S "DESIRING GOD" MINISTRY
"Though You Slay Me" (Featuring John Piper) Video Hits 180K+ Views

Sales of Bring Your Nothing Rocket to Top 10 on iTunes Christian Albums chart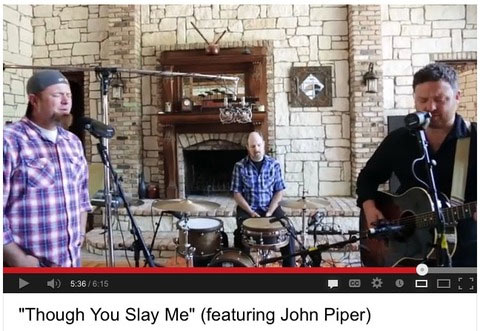 NEWS SOURCE: Savvy Media
September 9, 2013
(NASHVILLE, Tenn.) Sept. 9 2013-Fair Trade Services singer-songwriter duo Shane & Shane was recently tapped by renowned pastor and teacher John Piper's "Desiring God" ministry to record an acoustic rendition of its song "Though You Slay Me" for
desiringGod.org
, which has more than 20 million annual visits. The video, featuring an excerpt from Piper's message "Do Not Lose Heart" (2013), has already received more than 180,00 total views, boosting sales of Shane & Shane's latest release,
Bring Your Nothing
, into the Top 10 on iTunes' Christian Albums chart the week the video debuted.
Shane Barnard penned "Though You Slay Me," from Bring Your Nothing (5/14/13), about the suffering of a close friend. He explains: "We were praying for our dear friend who was about to have the lower half of his body amputated, when this verse became the focal point: 'Though He slay me, yet will I trust Him.' (Job 13:15) And even though the Lord chose to spare my friend from that particular trouble, the biggest miracle was the overcoming of fear. Happiness comes and goes like the wind, but our JOY in Him remains. Even in the darkest times, the joy of our salvation can be our strength."
"Though You Slay Me" resonated with the team over at "Desiring God," who flew a crew to Shane & Shane's Texas studio to film a live acoustic recording of the song. Integrated into the final version is a clip from Piper's "Do Not Lose Heart" sermon, which encourages listeners that there is great hope in the midst of suffering.
"God's sovereignty and goodness in the midst of human suffering is foundational to Desiring God," says Jonathan Parnell from the Desiring God team. "This is a clear message in the Bible, and especially the Book of Job, which Shane and Shane beautifully articulate."
The video posted as part of the "Desiring God" blog on Aug. 13 titled "A Song for the Suffering (with John Piper)," and can be viewed here: http://www.desiringgod.org/blog/posts/a-song-for-the-suffering-with-john-piper. It has also since been added to DG's YouTube channel: http://www.youtube.com/watch?v=qyUPz6_TciY. Its resulting popularity increased digital sales of the single by more than 4,000 % the first week.
Additionally, Shane & Shane will be leading a "Night of Worship" at the upcoming Desiring God National Conference Sept. 27-29, 2013 in Minneapolis. For more information on the event, visit: http://www.desiringgod.org/events/national-conferences/2013.
About Shane & Shane
Shane Everett and Shane Barnard formed the duo, Shane & Shane, after meeting at Central Baptist Church in College Station, Texas in the late 90's. Since then, the acoustic-guitar wielding pair has become a college-circuit favorite with 10 label releases to its credit, and countless hours logged on the road, including tours alongside Bethany Dillon, David Crowder Band and Phil Wickham, among others. In total, the band's career sales exceed half a million units.
Shane & Shane's latest project Bring Your Nothing, released May 14, 2013, was recorded entirely at the Shanes own Wellhouse Studios in Cedar Hill, Texas. Bring Your Nothing was a community effort, featuring Jason Hoard (Third Day), Tyler Chester (Fiction Family), Josh Moore (Caedmon's Call) and Shane & Shane's drummer, Joey Parish. For seven days, the talented musicians shared meals, conversation and time together playing, singing and recording. The songs were tracked with all of them playing simultaneously in one room.
Shane & Shane assumed all of the production responsibilities to create an album that boasts musical diversity but also a cohesiveness stemming from the unique recording process. Lyrically, the songs on Bring Your Nothing were born out of Shane & Shane's weekly songwriting class where they teach students songwriting principles and theology.
To find out more about Shane & Shane and Bring Your Nothing, visit: www.shaneandshane.com, www.facebook.com/shaneandshanemusic or www.twitter.com/ShaneandShane.
About Desiring God
Desiring God exists to help people everywhere understand and embrace the truth that God is most glorified in us when we are most satisfied in him. Through the Internet, desiringGod.org is able to make available to the world thousands of digital resources at no charge, reaching new places and fresh pockets of people that would have been unthinkable until recent technological advancements.
# # #
For more info on Shane & Shane visit the JFH Artists Database.