HILLSONG UNITED NAMED TOP CHRISTIAN ARTIST AT BILLBOARD MUSIC AWARDS
EMPIRES Set To Release May 26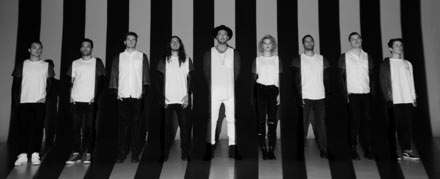 NEWS SOURCE: Merge PR
May 19, 2015
19 May 2015 – Nashville, Tenn – Hillsong UNITED was named Top Christian Artist at Sunday night's Billboard Music Awards. The group was also nominated for "Oceans (Where Feet May Fail)" as Top Christian Song. The Billboard Music Awards were held live in Las Vegas from the MGM Grand Garden Arena and aired live on ABC.
"At this point it's all so far beyond us that everything and nothing is a surprise," shares Joel Houston, lead of Hillsong UNITED. "We've been riding on this scandalous grace for so long and throwing everything we have into not taking a moment of it for granted. It means a lot to be recognized on this kind of platform and with so many incredible artists we love and admire. I feel like this award belongs to the many in our church and others around the world who faithfully give their time and energy week in week out, often behind the scenes and with no desire for accolade or applause. If anything, the songs and whatever they achieve are the overflow of that spirit to simply serve God and serve others."
The Billboard Music Awards, a subsidiary division of the iconic Billboard brand, honors some of the biggest names in music today. According to Billboard, the Billboard Music Awards finalists are based on key fan interactions with music, including album and digital singles sales, radio airplay, touring, streaming and social interactions on Facebook, Twitter, YouTube, VEVO, Spotify and other popular online destinations for music. These measurements are tracked year-round by Billboard and its data partners, including Nielsen Entertainment and Next Big Sound.
UNITED is set to release their highly anticipated album EMPIRES (Hillsong Music/Capitol CMG) Tuesday, May 26. Already touted by fans as "the best album yet," "mind blowing" and "absolutely amazing," EMPIRES is available for pre-order now with three instant downloads - "Prince of Peace," "Heart Like Heaven," and the current radio single, "Touch The Sky, " which continues to hold the No.1 spot on the iTunes' Singles chart.
Promoting the new album, Hillsong UNITED launched EMPIRES performing to 10,000 people last week in New York City at Central Park's Rumsey Playfield. Later the same week they played to an exclusive crowd, pictured below, in a one-off performance at Los Angeles' Club Nokia. Earlier in April UNITED appeared live on The Today Show performing the hit "Touch The Sky."

The release of EMPIRES follows the band's largest growth and international impact in over the last two years. With the 2013 release of ZION, UNITED's notoriety increased with their No. 1 single "Oceans (Where Feet May Fail)" as it became a RIAA Platinum certified single. This was the group's first No.1 radio song, cracking the longest reign on Billboard's airplay/sales/streaming-based Hot Christian Songs chart.
In 2014 Billboard Magazine named Hillsong UNITED the top artist of the year, and the group was awarded five GMA Dove Awards, including the coveted Artist of the Year and Song of the Year for "Oceans." They were also nominated for their first American Music Award. Hillsong was included in 10 of Billboard's End of Year charts topping five of the charts: Top Christian Artists, Hot Christian Songs, Hot Christian Songs Artists, Christian Airplay Artists and Christian Digital Songs.
UNITED is a worship band that originally rose out of the youth ministry of Hillsong Church in Sydney, Australia. This progressive worship band is a global recording and touring entity sent out to share the ever-evolving worship music of Hillsong Church to an international audience through live performances and records. Releasing their first album in 1999, UNITED has toured six continents and more than 40 nations since 2006. The touring entity of UNITED has made a huge wave in the United States as they became the first Christian artist to ever sell out Los Angeles' Staples Center. In addition to the Staples Center, UNITED has also sold out major venues in Seattle (ShoWare Center), New York (Radio City Music Hall – Hillsong Conference), Denver (Red Rocks Amphitheatre) and Los Angeles (Hollywood Bowl). They will embark on The Outcry Tour this summer - visit HillsongUnited.com for more information.
###
For more info on Hillsong UNITED visit the JFH Artists Database.