DEMON HUNTER ANNOUNCE NEW DOUBLE ALBUM, War AND Peace, OUT MARCH 1, 2019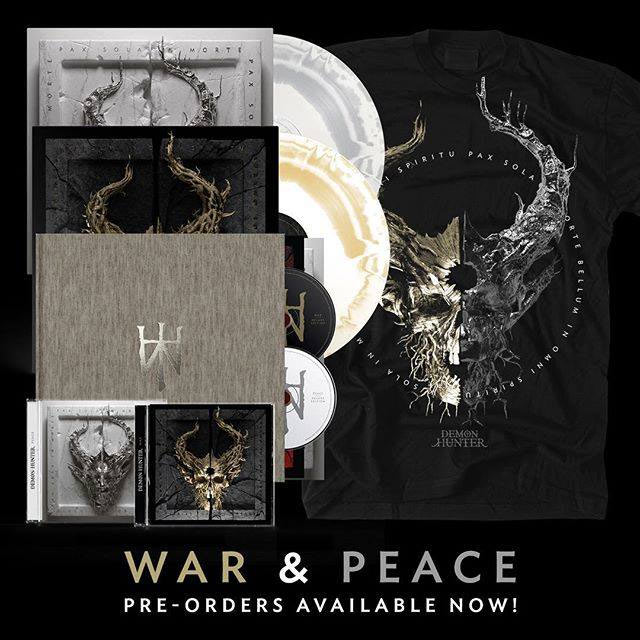 NEWS SOURCE: Jesusfreakhideout.com / Demon Hunter
December 4, 2018
Christmas has arrived early for the Demon Hunter fan. The Solid State Records metal group has announced two brand new studio albums -- War and Peace -- both due out March 1st, 2019. The band is making them available separately on CD and in a special 2-CD box set, as well as both on vinyl as well. Preorders are open now.
Demon Hunter announced, "We are proud to announce not one but TWO BRAND NEW ALBUMS, both set for release March 01. You can preorder WAR and PEACE separately or packaged together with a massive deluxe edition book. Blessed Resistance members receive 10% off. (Not a member? JOIN HERE) War & Peace preorder is available HERE."
From their web store, "The Deluxe Edition 80-page hardcover book is the only format offering Demon Hunter's new albums together, and the only versions of War and Peace containing a bonus song on each disc. Designed to read from either side, this limited-edition book features exclusive photos and liner notes, a foil-stamped linen cover, and two art prints boasting alternative album covers for each record. Finished in a black resealable bag, this Deluxe Edition ushers in the band's ninth and tenth studio albums in collectible fashion."
For the latest on Demon Hunter, be sure to follow their Facebook page. And for diehards, you can join their fan group Blessed Resistance for special perks and discounts!
War Track Listing:
1) Cut to Fit
2) On My Side
3) Close Enough
4) Unbound
5) Grey Matter
6) The Negative
7) Ash
8) No Place for You Here
9) Leave Me Alone
10) Lesser Gods
Peace Track Listing:
1) More Than Bones
2) I Don't Believe You
3) Loneliness
4) Peace
5) When the Devil Come
6) Time Only Takes
7) Two Ways
8) Recuse Myself
9) Bet My Life
10) Fear Is Not My Guide
###
For more info on Demon Hunter, visit the JFH Artists Database.