HILLSONG UNITED JOINS PANDORA'S BILLIONAIRES CLUB AND CONTINUES MOMENTUM FOR RECORD-BREAKING YEAR
Award Accolade Follows on Heels of Largest Career Street Week Album Sales and Multiple Sold-Out Arena Tour Dates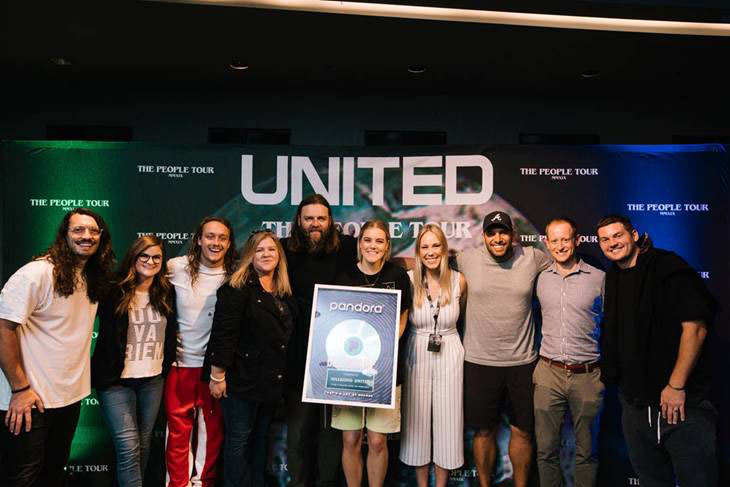 Photo courtesy of Hillsong UNITED

NEWS SOURCE: Rogers & Cowan
July 2, 2019
NEW YORK, N.Y. (July 2, 2019) - Multi-platinum selling and award-winning Hillsong UNITED joins Pandora's Billionaires Club celebrating over 1.8 billion lifetime streams on the platform. One of only a handful of artists in its genre to reach this benchmark, the group was presented the prestigious award last night during their VIP (Diamond) Fan Experience held prior to their sold-out show at Madison Square Garden.
"To say we are completely humbled and grateful to receive this accolade and be able to travel these songs would be an understatement!," says Hillsong UNITED's JD. "We are so thankful to everyone who has come out to the events and engaged in these songs. We have always endeavored for these songs to help people in whatever season of life they are in and bring glory to God who gave us all life in the first place!"
"Imagine what it's like to start out as the youth group band at church and then 'age out' of that to become the voice of worship for an entire generation of 21st century Christians," says Melissa Chalos, Christian and Gospel Music Curator/Programmer at Pandora. "That's the story of Hillsong UNITED, a band whose success actually matters less to them than the cultural impact of their message. They're the first worship band to surpass the Billion Spins benchmark. Innovation, authenticity and 'Oceans' got them there. Church people will be singing their songs for generations to come."
The recent accolade builds on the worship collective's massive, record-breaking year. Hillsong UNITED just celebrated its largest career street week to date with the release of their latest album, "People." The monumental project generated over 8 million streams and over 100K in albums sold within its first week, solidifying UNITED's status as the most influential group within contemporary Christian music.
In support of the new album, the group returned to the United States in April 2019 for the first time in nearly three years for its People Tour. With multiple sold-out shows including LA's Staples Center, NYC's Madison Square Garden and D.C.'s The Anthem, Hillsong UNITED just announced that it will be expanding their tour with six new dates in September. Presented by Premier Productions, cities added include Jacksonville, Indianapolis, Milwaukee, Louisville, Oklahoma City and Bossier City. For tickets or more information, visit Hillsong.com/UNITED or PremierProductions.com.
For more information, visit www.hillsongunited.com or @hillsongunited on all social platforms.
About Hillsong UNITED:
Hillsong UNITED is a multi-award-winning, platinum-selling artist whose chart successes (repeatedly No. 1 on Billboard's Christian charts and up to No. 2 on Billboard 200) are only bested by the millions of lives they've impacted across the globe. Reporting over 50 million people singing from the Hillsong catalogue songs every Sunday, the modest band born from a youth ministry out of Hillsong Church in Australia, touts a reach of over 10.8 million across all major social network platforms to date, including over 2.1 billion minutes garnered from YouTube viewers. Comprised of an evolving, eclectic mix of musicians and songwriters, the band is led by Joel Houston and Taya, names that have become synonymous with Christian radio, dominating airwaves with every new release. Their last four studio albums have each topped the USA Christian chart, with "Zion" and "Empires" charting no. 1 ("Zion" recently also went Gold in the U.S.); "Oceans," written by Houston and band member Matt Crocker recently went triple platinum in the States, counting 200+ million streams and reigning on top of the Christian songs chart for a record 54 weeks. In studio, on tour or at home, Hillsong UNITED is committed to writing songs that speak truth, create a unique sound and connect people everywhere with God, evident by the success they've seen globally. With over 50 countries and six continents visited, Hillsong UNITED continues to sell out arenas and stadiums around the world, including sold-out nights at the Forum, STAPLES Center and The Hollywood Bowl in Los Angeles, The Toyota Center, Oracle Arena, Air Canada Arena, American Airlines Arena (Miami and Dallas), and Red Rocks to scratch the surface. Hillsong UNITED functions from the deep understanding that everything they do is an expression of a really extraordinary God doing what only He can do, through really ordinary people.
###
For more info on Hillsong UNITED, visit the JFH Artists Database.