After having his single "Been About It" banned due to legal issues, ANDY MINEO'S Never Land II finally releases with a new version of the song!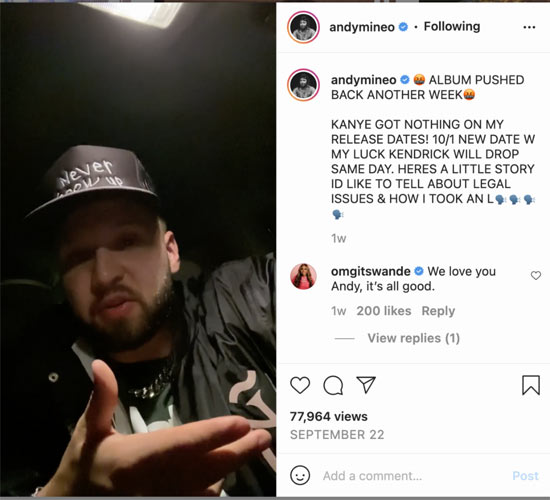 NEWS SOURCE: Schure Media
October 1, 2021
Imagine trying to release your album three times and the day before the third release date you get a call from your lawyers! #Copyrightinfringement. The album cannot be released because of one song! One song, "Been About It," ft Lecrae is the hold up!!!
A man of the people, Andy Mineo, took to Atlanta's Beltline with his partner- in-rhyme, Lecrae, to find out what the people had to say about the "banned" video, and the legal concerns around this release. The song and video created to pay tribute to hip-hop's icons had delayed the release of the entire album!
Before we release that video, let us take you through a few emotional moments from Andy! In order to release,
Never Land II
, by October 1st, he recorded a new version of "Been About It," and a new video. With the new version and video for the song filmed and recorded, he was given the thumbs up to release! Until then
stream the album here
. Visuals to come!
About Andy Mineo:
New York native Andy Mineo, is a hip hop recording artist known for his reflective lyricism. His sophomore album, Uncomfortable, became the No. 1 Independent Record in the Country and delivered a No. 3 and No. 10 position on Billboard's Hip Hop and Top 200 album charts, respectively. Mineo headlined The Uncomfortable Tour, a 52 city tour, which sold out at legendary venues across America and in Europe. He has appeared on Sirius XM's Sway In The Morning, MTV, and his colossal hit, 'You Can't Stop Me," won an ESPN Whammy Award for MLB's "Top Walk Up" song. Andy is also a content creator. He scripts, directs, and produces many of his own music videos. He also created a 3-season web series on YouTube called "Saturday Morning Car-Tunez," which garnered over 1 Million views and gave fans a glimpse into his creative process and personal life. Beyond the critical adulation, he is a born communicator with a comedic timing who has become a social media juggernaut with an audience of over 1.2 million and growing.
About Reach Records:
Reach Records is an Atlanta based independent hip-hop label founded in 2004 by Lecrae and Ben Washer. Long before acclaim, awards, plaques, chart positioning, and radio play, the two started the label because they both love hip-hop and Jesus. Reach Records was launched with no strategy, no funds, no big players, but they made big moves! Today Reach Records is a trailblazing label with a roster of nearly 10 artists and a staff of 20 who are unashamed about sharing their faith and passionate about hip-hop. Reach Records is committed to building a movement that combines faith with music and popular culture.
###
For more info on Andy Mineo, visit the JFH Artists Database.