THE ROCKET SUMMER Escapes Into An Isolated Distorted Trance In Alt-Rock "M4U" Video
More New Music Planned for 2023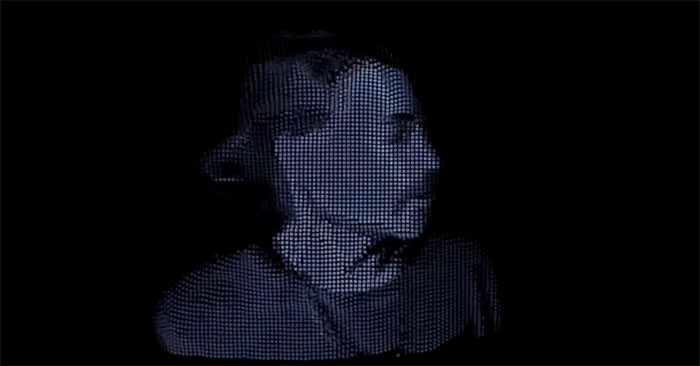 NEWS SOURCE: Reybee, Inc.
December 1, 2022
December 1, 2022 (Dallas, TX) -- "The song is about longing and feeling a sense of belonging somewhere else, sometimes feeling like an alien, but someone or something is what makes this world feel like home," says multi-instrumentalist BRYCE AVARY, better known as THE ROCKET SUMMER, about "M4U," his new single whose video launches today via Aviate Records. "I wrote it from the voice of one person to another, but to me, it was also a metaphor about longing for a dream realized, for a release, a reprieve."

Adding to this extraterrestrial awareness, the pixelated and otherworldly video finds Avary moving and gyrating in a terpsichorean sway, part of it due to being ill during filming. "I actually had Covid when it was time to film this, but found being overall loopy helped the performance... just totally in abandon, grooving in outer space," he recalls. "So much time had led up to this moment that the chance to live in this song pulled me out of all of it for a bit. I set up some lights and a camera in my own studio, isolated and away from everyone, and just started filming grooving to it, then filmed playing the drums, guitar, synths."

Shifting in intensity from frames of cybernetic people dancing and Avary performing on multiple instruments within the shimmery universe, the glitchy broadcast video was creative directed by Nicky Parks (24kGoldn, Killer Mike, Jessie Reyez) with direction of photography was handled by Jv.sls. "Nicky wanted to capture several energies blending into one and filmed several different people dancing and getting lost in the song. Then she ran all the footage through synths and pieced and edited it all together," he explains.

A forward musical progression that dives deeper into the indie electronic waters and alt-rock roots that he'd previously waded in with 2016's Zoetic and 2019's Sweet Shivers, "M4U'' proves to be an exciting new direction for the power-pop/indie-rock powerhouse. "I actually considered releasing this music under a separate name for some time," Avary explains, acknowledging the shift in sound that fans might come to expect from the artist who Alternative Press hailed as one of the "100 Bands You Need to Know." He continues, "The Rocket Summer has always been me, but it has always been only a part of me, if that makes sense. There's a lot more there that I've been aching to exhale, but the train of life moves fast. I really let myself reset with this one."
Already receiving radio airplay on Mexico City's largest Alternative station Reactor 105.7 FM, the loose-tuned and rhythmic "M4U" seethes and simmers with an earthy electro beat, punctuated by Avary's unmistakable vocals and distorted guitars lingering throughout. "Making this record was the most I've ever grooved alone," he says. "I shut the door, started to jam, exhaled and just kept exhaling." Evoking the mixed textures of wall space in industrial clubs, UK dance-punk halls, and R&B venues for the last forty years, the track weaves all these groove-centric elements into a cohesive, thumping track that retains the essence of The Rocket Summer with alt-rock elements, that display a true, natural, and exciting evolution in Avary's music.
Launching from an underground buzz to mainstream acceptance, The Rocket Summer released its first major label album, 2007's
Do You Feel
, on Island Def Jam, artfully balancing the drama and emotion of the early 2000s alt-rock scene with a sharp passion and appreciation for pop hooks and melody. A vital voice in the scene, Avary has released seven studio albums and several EPs, many of which landed him at the top of numerous
Billboard
charts. With such keystone singles such as "So Much Love," "Shatter Us," and "Do You Feel", Avary continues to be an omnipresent voice in the music scene.
Now with "M4U" and more music planned for 2023 (watch this space!), The Rocket Summer is excited for the next chapter. The new video for "
M4U
" is released today, the single can be purchased/streamed here:
https://onerpm.link/trs-m4u
. The Rocket Summer is available for interviews.
###
For more info on The Rocket Summer, visit the JFH Artists Database.