With the ever-expanding world of indie artists, it can be difficult to discern good quality artists from bad. Of course, in regards to music, quality and artistry are subjective. Furthermore, for fans of hip-hop music, navigating the treacherous waters of copycats and obnoxious headset singers can be exhausting. Thankfully, there is the occasional artist that can carry his own: Hawaiian/Italian rap artist
Illtalian
hopes to be one of those standouts with his latest release,
Notti Insonni
. The album opens with the melancholy "Sleepless Nights." The simple instrumentation and clear lyrics make it easy for listeners to grasp the desire for rest - literally and figuratively. "Pride (Alone Again)" follows the same despondent tone but with a challenge for humility. "Fade Away" is the standout track on the short album as it gives listeners a very introspective perspective involving our need for Jesus amidst anxiety. Unfortunately, "Matches" does not continue with the same quality - the vocal refrains don't match the intensity of the verses and honestly sound out of tune. The album concludes with the beautiful "Notti Insonni," echoing the theme set by "Sleepless Nights," but this time with an elegant piano foundation. One of the major critiques with this is the tone and pitch of the guest vocalists. At times it feels like they can't find the key of the track, which distracts from the message. Overall, there are a few obvious missteps in the album that can be easily overlooked because of the excellent instrumentation and intriguing melodies. Illtalian definitely has a sound that is comparable to contemporary hip-hop artists like Eminem and Macklemore that many may find enjoyable. So for those looking for something a little different but similar enough to be comfortable with, you'll find a decent listen with Illtalian's latest release. - Review date: 6/28/15, written by
Ryan Barbee
of Jesusfreakhideout.com

Record Label:
None

Album length:
6 tracks: 20 minutes, 31 seconds

Street Date:
December 30, 2014

Listen here:
Soundcloud

Buy It:
iTunes

Buy It:
AmazonMP3
Sleepless Nights (feat. Malachi Burrow) (4:38)
Pride (Alone Again) [feat. Dondi Iannucci & Aowl Owen] (4:20)
Fade Away (feat. Jon Jon Obiano of Paradox Lockdown) (3:29)
Nocturne (Interlude) (2:23)
Matches (feat. Paradox Lockdown & Streetlight Cadence) (4:25)
Notti Insonni (Outro) [feat. Malachi Burrow] (1:16)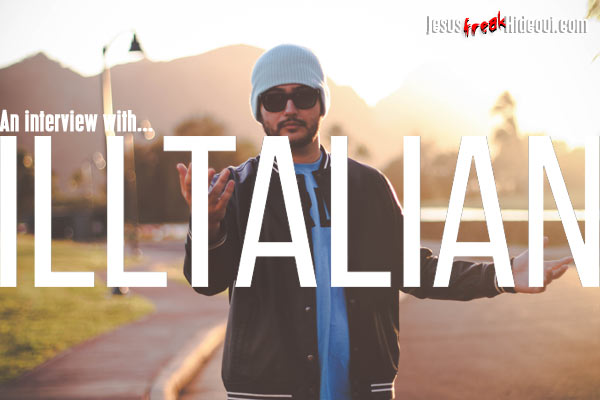 JFH (Ryan Barbee): What's the story behind "Notti Insonni"?
Illtalian: Well Ryan, the story behind "Notti Insonni" is an interesting one. For as long as I can remember, I've had difficulty sleeping at night - my mind tends to wander, and I can't really "shut off" my brain. I've also battled bad dreams since I was a kid. On the plus side, I tend to be most creative at night, and the majority of the songs on my album were written somewhere between 7 PM and midnight. My hip hop mentor, Chad Victory, suggested that I find a way to use that to my advantage, and gave me the name for what would eventually become my EP, "Notti Insonni" (which is Italian for "Sleepless Nights"). I loved the idea, and ran with it. "Things that keep me up at night" became the theme for the EP, and every single song tackles something that I've lost quite a bit of sleep over - everything from ambition to anxiety, girls, regrets, and even (most obviously, I suppose) bad dreams. The EP also deals with a lot of the stuff I was never able to talk about in person - all the anger, bitterness, and hurt that I needed to get off of my chest. It was a very healing experience. It took my producer, Cameron Williamson (who is a genius, by the way, and not to mention more patient than a saint for dealing with my constantly changing ideas!), and I about two and a half years to complete "Notti Insonni"; it was definitely an adventure. Here's to hoping the next project turns out even better, right?
JFH (Ryan): What influences you in the writing process of your songs?
Illtalian: All manner of things, really. The music I'm listening to at the time, the mood I'm in when I'm writing, even the weather! For example, the final track on the EP, "Notti Insonni (Reprise)," was something I came up with in a moment of inspiration one rainy day whilst I was out at the beach! I also like to draw on personal experiences and emotions when I make my music; I've gone through my fair share of adversity in life (and really, who hasn't?), and I've found that getting it all off of my chest and into the open is the best way to prevent those experiences and emotions from becoming toxic. So whenever I feel bad or upset or frustrated, I use my songwriting as a way to vent. A lot of that stuff doesn't make it to the public, but once in awhile, if it's something special, I'll share it with the world. I like to try to make my songs relatable to others whenever possible, which definitely shapes the way I craft my songs.
JFH (Ryan): What is your favorite song on the album and why?
Illtalian: Ahh, that's a tough one! It's kind of like choosing your favorite kid. But if I had to choose, I guess I'd probably go with "Matches." That song features two of my favorite up-and-coming bands in Paradox Lockdown and Streetlight Cadence, so it was a real treat to work on in that respect. But it is also probably the most personal song on the album (which is saying something, since every song on "Notti Insonni" deals with something personal). Growing up as a pastor's kid in a small town, I quickly became disillusioned with the church, and even God, because I saw a lot of hypocrisy behind the scenes - people don't think kids are watching, but they are, and I saw sides of people that they'd try to hide from my parents. I felt like I couldn't really trust "Christians" and began to wander away from Jesus. To this day, I still struggle with that bitterness, which is something I think a lot of people can relate to. Those experiences, coupled with being picked on a lot in school, made me a pretty cynical person. Soon I started to be a bully and a hypocrite myself - the very kind of person I despised - which led to a lot of self-loathing and hurt on my part. Being able to get all of that fury and frustration out into a song, especially because I'd never really talked about it before, was a huge part of recovery in my walk, and even just as a person. I definitely shed some tears writing "Matches," no doubt about it. So if I had to choose, I guess that would be my favorite song.
JFH (Ryan): What do you hope to accomplish with your music?
Illtalian: You know, it's funny. Like, I definitely want to reach the top - ambition is something that drives me, and (frankly) it's something I often struggle with, too. But on the other hand, I don't just want to be another person trying to glorify himself. It's a bit cliche, really. I think the world is definitely hurting right now, and perhaps more than ever before people are really craving something different, a light. Guys like Lecrae and the 116 Clique are sort of paving the way for other artists like myself - musicians who are Christians, without necessarily being "Christian musicians." I know that it's a rather controversial subject for some, but I want to be able to reach as broad a spectrum of people as possible, without alienating them - and also without compromising my message. Who knows? Maybe I'm just an unrealistic dreamer. Or maybe I'm onto something. But though we may not have had the same struggles in life, I truly believe that pain is pain and hurt is hurt. And if by sharing my pain - and my hope in Jesus - I can help start the healing process for someone else…you know what I mean? That's what goes through my mind whenever people ask me what I'm hoping to do with my music.
JFH (Ryan): What artists/bands are you currently listening to? What do you like about them?
Illtalian: Oh man, how much time do you have? I love music of all kinds, and my tastes are pretty diverse. Guys like Damien Rice, the Beatles, Phil Wickham, and Will Reagan are right there on my iPod next to rappers like Lecrae, Macklemore, Eminem, and the Roots, so, you know, I'm getting all sorts of different sounds going through my head each day. I also really love Beautiful Eulogy, especially their eclectic production style - that really influenced "Notti Insonni." Currently, I'm listening to a lot of Streetlight Cadence, an incredibly talented indie band coming out of Hawaii - I definitely recommend checking them out!

I think the connection you'll see when you compare all of those artists I just mentioned is that they're all quite different, they're eclectic, and they're very real. I really appreciate honesty and powerful emotion in music, which I think shows up in the way I write. I love musicians who stand out in some way, and I can't handle the generic, cookie cutter stuff on the radio these days. The thing I like most about these artists is their originality and sincerity.
JFH (Ryan): If you could encourage other aspiring artists, what would you say?
Illtalian: Three words: keep the faith. If it's meant to be, it'll definitely be, but it will never be if you don't believe in yourself. People are like dogs: they can smell fear. Fans will notice right off the bat if you aren't confident in yourself, and if you aren't into your own music, why should anyone else be? I'd also remind them that hard work beats talent when talent refuses to work hard. The world doesn't owe you anything, neither do your fans, and neither does God. If you're just sitting on your hands waiting for something to magically fall into your lap, you'll be there for quite some time, regardless of how talented you are.

Finally, I'd say that they should always remember that God is in control. As Proverbs 16:9 says, "The heart of man plans his way, but the Lord establishes his steps." In other words, be flexible; Jesus may have other plans for you, and if you get really stuck on one way of doing things, you could miss out on something even better. If an opportunity doesn't work out, it means that God didn't want it to - don't waste time regretting missed chances. Just get back on the saddle, and trust the Lord to lead you where He will!
JFH (Ryan): What has God been teaching you lately?
Illtalian: Lately, God has been teaching me a lot about patience, and a lot about faith. I just graduated college man, and let me tell you - it's been an interesting transition into the real world. Like, all of a sudden, there's no more excuses for me: no more, "Oh, I'll take music more seriously after I graduate," or "I'm still young, I have plenty of time to make it big!" Now it's the real world, as people love to constantly remind me. So trusting God has been a big issue in my life right now, because suddenly, this whole music thing is very real. I have student loans to pay off, bills coming in, and if I want to do music seriously and still be able to pay those bills and eat lunch, it's gonna require some serious work, and even more importantly, some serious faith. Because sometimes, it gets to be overwhelming, and you have to stop yourself and remember that you aren't drowning, and that God is in control and that He will get you from point A to point B one day at a time. It can get really frustrating, and I get impatient. I'll catch myself saying things like, "Lord, when is music going to pay off? I'm ready!" And then He'll show me some aspect of my life that needs a lot of work, and I realize that, whoops, no, I'm actually not ready yet after all. But I'm getting there. And God has just been speaking to me that He's not gonna let me get out ahead of myself, or ahead of Him. If He can take care of the sparrows and the flowers - insignificant little things, but they never worry about going hungry - then I know that He'll take care of me, too. It just requires some patience and faith on my part. One day at a time, right? One day at a time.